Exclusive
Mother Of Second Murder Victim May Have Had Phone Hacked By News Of The World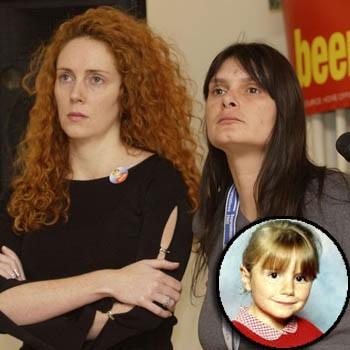 By Cliff Renfrew - RadarOnline.com Reporter
The scandal which has engulfed Rupert Murdoch's media empire took a new twist Thursday after it emerged that the mother of another child murder victim may have had her phone hacked into.
And to make matters worse Sara Payne had been used as a figurehead by the now defunct News Of The World newspaper to champion their child protection campaign.
The newspaper used the case of tragic 8-year-old Sarah Payne, who was murdered by paedophile Roy Whiting, in 2000 to pressure the UK government to change the law concerning sex offenders.
Article continues below advertisement
Police informed Sara that her details were in notes compiled by private detective Glenn Mulcaire who has been implicated in connection with the hacking scandal.
The Pheonix Charity - which represents the Payne family - released the following statement: "Whilst it was previously confirmed by 'Operation Weeting' that Sara Payne's name was not on Private Investigator 'Glenn Mulcaire' list, it has now been confirmed by the 'Operation Weeting' that Sara's details are on his list.
"Sara is absolutely devastated by this news, we're all deeply disappointed and are just working to get her through it.
"Sara will continue to work with the proper authorities regarding this matter, there will be a further statement in due course, but at this point in time, she (or we) can make no further comment."
Dubbed "Sarah's Law" the NOTW campaign led to British parents now being allowed to check if someone with access to their children is a sex offender.
Article continues below advertisement
In the final edition of the NOTW on 10 July, Ms Payne wrote a farewell column for the paper describing it's staff as "my good and trusted friends".
The disclosure comes after claims that Mulcaire hacked the phone of another child murder victim, Milly Dowler's phone for the NOTW after she went missing in 2002.
The Metropolitan Police's Operation Weeting continues to investigate claims about the now closed newspaper's phone hacking culture.
A British Parliamentary Committee recently questioned NOTW editor Rebekah Brooks, James Murdoch, and chairman Rupert Murdoch, about the hacking scandal with all three denying any knowledge of it.
Lord Justice Leveson is going to carry-out a full public inquiry into media hacking in which he will use his powers to demand evidence from witnesses.
News International has not released a comment on these latest reports.