Rupert Murdoch & Son Face Grilling Before Parliament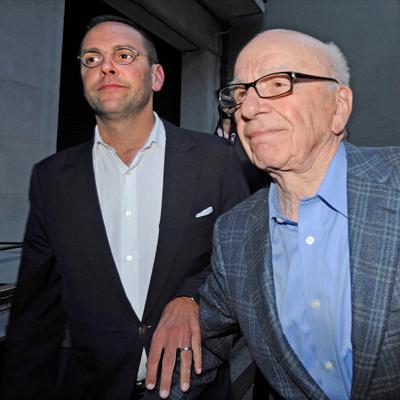 by RadarOnline.com Staff
UPDATE: The Murdochs are now testifying before Parliament.
Media mogul Rupert Murdoch and his son James will appear before British Parliament Tuesday to be grilled by a special committee investigating alleged criminal activity at the now defunct News of the World, which shut down in disgrace earlier this month after 168-years in business.
Parliament is looking into allegations that reporters at the tabloid hacked the phones of some 4,000 people, including celebrities, politicians, a murdered schoolgirl, and relatives of slain British soldiers – all with the encouragement of top editors in an effort to get scoops for the paper.
Article continues below advertisement
Parliament is also investigating whether police accepted bribes in exchange for stories.
At issue -- What, if anything did Murdoch and his son know about the alleged criminal activity?
After initially downplaying the scandal, Murdoch, 80, made a rare apology in British newspapers over the weekend, but this will be the first time that the Aussie mogul will speak at length about the phone hacking allegations.
MORE ON:
News of the World
The scandal has already led to the arrest of 10 people, including Murdoch's top executive Rebekka Brown, who was taken into custody Sunday, but later released.
Meanwhile, Murdoch's role as the head of the embattled News Corporation -- parent company of Fox News – may be in jeopardy.
The Bloomberg business and financial news website reported that independent directors are considering the possibility of replacing Murdoch as chief executive, although he would remain as chairman.