Exclusive
Scientology VS. The Nazis! Tom Cruise & Lawyers Accuse Magazine Publisher Of Secret Ties To Nazism In Bitter Libel Lawsuit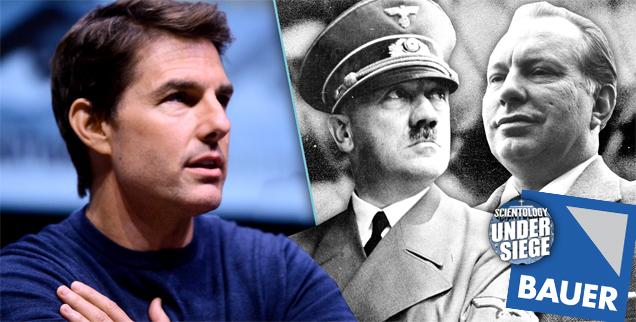 Article continues below advertisement
Cruise's attorneys first made the disturbing accusations in a letter, obtained by RadarOnline.com, that was sent by Cruise's lawyer, Bert Fields, to the Bauer attorneys in December, 2012 as their defamation lawsuit began.
"This relentless defaming of Mr. Cruise and his Church is less surprising now that we have discovered Bauer's long and disgraceful record of religious hatred any bigotry," Fields wrote. "This appalling record goes back to the 30s and 40s, when Bauer Publishing was a fawning admirer of Hitler and the Nazis, publishing glamorous portraits of Der Führer … They also published vicious caricatures of Jews that were so popular in Germany at the time."
Article continues below advertisement
Bauer's counsel, Elizabeth A. McNamara, responded that the accusation was "bizarre" and not deserving of a "substantive response." But it didn't end there.
According to emails obtained by RadarOnline.com, another of Cruise's attorneys, Matt Gelsor, fired off an email tip to Associated Press reporter Frank Jordan on November 6, 2012, offering up "information about a giant German publisher with old and current Nazi and neo-Nazi ties that have never been exposed."
"Bauer is openly publishing in Germany at least three magazines which whitewash the Nazi history and glorify or excuse Hitler, SS, and the Nazi party," Gelsor accused in a further email. "It's really hard to believe."
"Bauer was very active during the Nazi era, publishing a number of weekly magazines," he wrote. "Bauer has airbrushed the internet of any remnants of any of thousands of its magazines during the era, but we found one cover so far … and we'll find more."
Article continues below advertisement
Gelsor even went so far as to claim, "It is likely that concentration camp labor was used to publish these weekly magazines," admitting, "we have not uncovered any evidence of that yet."
The AP ultimately didn't take the bait, but in February, 2013, a story containing identical accusations surfaced on TheWrap.com. Bauer lawyers were sure who the source was.
"We are confident that it was no coincidence" that The Wrap suddenly decided to cover the topic, Bauer attorney McNamara wrote to Cruise's counsel.
Further, she insisted, "It strains credulity to imagine that your office did not play some role in instigating the reporting by The Wrap."
EXCLUSIVE: Read The Email From Tom's Lawyer Leaking Nazi Claims To AP Reporter
Soon, Bauer's lawyers filed a request for an order of protection to stop Cruise's attorneys from continuing their "calculated scheme to smear, intimidate and harass" their legal foe.
"Cruise (through his counsel) has from the start of this action sought to inject the notion that the Bauer family in Germany and its companies worldwide harbored long-standing Nazi and anti-Semitic sympathies," the request read. "That in more recent history has somehow translated into Scientology bias. Building on this false comparison Cruise (through his counsel) commenced a press campaign to expose the Bauer family's supposed old and current Nazi and neo-Nazi ties."
Article continues below advertisement
Despite exhaustive searches of more than 13,000 pages of emails from In Touch and Life & Style employees, as well as depositions and interviews with several -- many of whom are in fact Jewish -- "not a shred of evidence … has been uncovered to support this offensive and absurd theory," Bauer insisted, requesting that the court step in to stop Cruise's attorneys from continuing on with their Nazi investigation.
Article continues below advertisement
The answer was no again to questions about whether he had authorized them to proceed with it, whether he had personally tried to generate press about Bauer being pro-Nazi, whether he authorized his counsel to generate such publicity, and whether he knew about or authorized Gelsor to leak the information to an AP reporter.
But Bauer lawyers received a different answer when they asked Cruise, "Reacting to negative press by insinuating an association with Nazism. This isn't the first time you've done this, is that right? … That either you or your representatives on your behalf … when someone has … attacked you negatively in the press in some manner, the reaction is to accuse them of being pro-Nazi or anti-Semitic or anti-religion?"
Cruise answered, "I don't know … Depends on the situation."
Indeed, RadarOnline.com has learned that Cruise's attorney, Fields, has raised the spectre of Nazism many times when defending Cruise and the Church as a whole.
In 1997, he drafted an open letter to the New York Review of Books comparing the German government's regulation of Scientology as a cult, to behavior seen in "the early days of the Nazi regime."
Article continues below advertisement
In 2008, he used the same tactic when responding to quotes from Dr. Drew Pinsky about Cruise and Scientology. The TV doctor had told Playboy, "Take a guy like Tom Cruise. Why would somebody be drawn into a cultish kind of environment like Scientology? To me, that's a function of a very deep emptiness and suggests serious neglect in childhood-- maybe some abuse, but mostly neglect."
Fields responded by saying, "Pinsky seems to be spewing the absurdity that all Scientologists are mentally ill. The last time we heard garbage like this was from noted Nazi propagandist Joseph Goebbels."
Article continues below advertisement
And in 2012, when Fields learned that The Hollywood Reporter was planning to write a report on Cruise and the Church, Fields fired off a letter saying, "Your suggestion that Tom may have to quit the Church to save his career sounds like Germany in the 1930s, when a man's professional career could be ended because of his religion."
Former Scientologists have claimed that the practice of using Nazism as a diversionary tactic is a common strategy utilized Scientology to deflect criticism.
One ex-Scientologist, Kim Baker, wrote in a blog post that in the 90s, when she was active in the Church, people criticizing Scientology and its founder L. Ron Hubbard were frequently referred to as "Nazis."
"By immediately slapping the label 'Nazi' on to people just criticizing Scientology, it was a way of demonizing critics and way of making them into hateful people," Baker explains. "…the label 'Nazi' washed away any point that the critics had. It was a truly superb way of justifying a continued barrier towards REAL communication with the critics."
Article continues below advertisement
She called Scientologists' use of the term "Nazi" a "SYSTEMATIC and CONCERNED effort to attach this label to, in Scientology's eyes, KEY players in the conflict against them," calling it "a definite agenda."
Ironically, the term has also been turned against the Church as well. In 2007, respected German news magazine Der Spiegel raised concerns that the Church was "A Nazi-Like Organization" that spread its views "in the tradition of National Socialism."