Exclusive
The Ultimate Betrayal! Leah Remini To 'Delve Into Her Experiences' With Tom Cruise, Katie Holmes And Other Top Scientologists In Lawsuit Deposition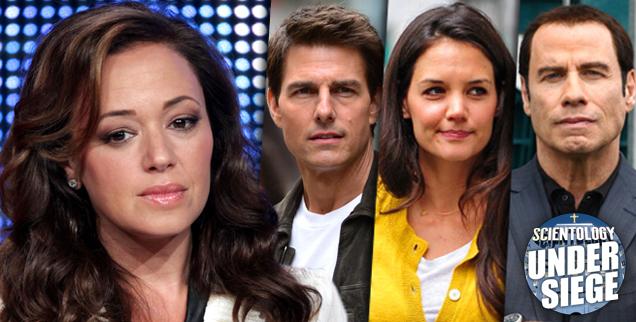 Article continues below advertisement
"We are having to prepare for a hearing on October 18," he says. "That hearing is about the leader of Scientology, David Miscavige's claim that he shouldn't be made to appear in Texas because he has no dealings there …"
The Rathbuns have argued that Miscavige in fact has control of international church dealings, based on Marty's time as a high-level Scientologist years ago. "But his attorneys have argued in court that we have very stale evidence because it goes back a number of years," Jeffrey says.
Article continues below advertisement
"There are two things that we want to try to establish," he continues. "One is that he does in fact control all aspects of the various Scientology corporations, so that this operation in Texas against our clients would not have occurred unless he was involved. We believe Ms. Remini can shed some light on the subject that in fact, he does control things, as she left the church very recently."
Secondly, "Miscavige's attorney has claimed in court that Mr. Miscavige is uninterested in our client," Jeffrey says. "I believe Ms. Remini will have testimony that in fact Mr. Miscavige is very concerned about Mr. and Mrs. Rathbun."
As for the possibility that Remini's deposition could cover wider topics, including Cruise, Alley, and others, Jeffrey says, "I don't want to speak for her, as to what exactly she'll say. Who knows what may come up. Certainly it will delve into her experiences in the church."
Remini's departure from the church this summer has sent shockwaves through the organization's increasingly shaky foundations.