Wife Of Tom Cruise's Former Scientology Auditor Sues The Church And Its Leader For Harassment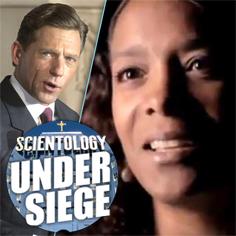 Article continues below advertisement
"She has been subjected to numerous, aggressive attempts to intimidate her… She has been targeted at home, at work, and anywhere else that she happens to be," the lawsuit alleges.
"She has been harassed, insulted, surveilled, photographed, videotaped, defamed, and humiliated to such a degree as to shock the conscience of any decent, law-abiding person."
Listed in her complaint of harassments are incidents she claims occurred specifically because she's a woman.
Article continues below advertisement
"Presumably because I am a woman, the Defendants seem obsessed with my sexuality. They sent a sex toy to me at my workplace, which was very embarrassing. With their constant surveillance of me, they knew when I was away from the office, at which time they sent flowers to one of my female co-workers with a 'romantic' message purporting to be from me. Of course this was distressing to me," the docs state.
"Scientology websites have published bizarre and sometimes vile allegations against me, including false claims that I am a sexual pervert. They have even alleged that I am not even a woman, but a man who has had a secret sex-change operation. So, I have even had my womanhood questioned as part of this sick campaign to inflict maximum emotional distress on me."
Monique's attorney, Ray Jeffrey, told The Underground Bunker that if the church would have just left his client and her husband alone, the lawsuit would have never came to fruition.
Article continues below advertisement
"They loved that house down there, but they had to leave," he said, referring to the move they made from Ingleside On The Bay in Texas to Comal County.
"And if the church had left them alone Monique wouldn't have sued."
But despite the move, Monique claims Scientology found them — and set up camp next door.
Jeffrey says an undeveloped piece of land adjacent to the Rathbun's was suddenly inhabited by a man who lived in an RV and claimed he was an author and writer.
"It was overgrown. It had no water, no electricity. The guy said he was bringing in an RV. But it's completely remote, not in a subdivision, there was no street address. It wasn't for sale and it wasn't for rent. The only way they got that property was by looking at a map to find out what was next to Marty's house," Jeffrey said.
"Some publishing company is not finding a property like that in Texas for one of its writers."
Article continues below advertisement
The Underground Bunker reports that high-tech cameras were installed in trees overlooking the Rathbun's home, with signs stating they were part of the Texas Wildlife Conservancy, which Jeffrey says doesn't exist.
"The cameras are not game cameras, they're high tech human surveillance cameras," he said.
"That was the straw that broke the camel's back for Monique. Cameras pointed at her driveway, watching who comes and goes."
The Church of Scientology responded with a statement, which includes:
The Church has not been served.

Based on the media reports, the complaint filed in Texas is nothing more than a pathetic get-rich scheme cooked up by unemployed blogger Marty Rathbun, who is now involving his wife in his plans.

As any reporter who has dealt with him knows, it was a bitter, seething Marty Rathbun who, after having been removed from his position in the Church for malfeasance a decade ago, initiated a smear campaign against the Church and its ecclesiastical leader that is now in its fourth year.

During that period, Mr. Rathbun and his self-described "posse" have unrelentingly shopped made-up tales and myths to virtually every media outlet they can find. Much to Mr. Rathbun's continuing frustration, the Church since his departure is flourishing and undergoing a period of unprecedented expansion.