Exclusive
Scientology Revolt: Ex-Church Star Leah Remini Files Missing Person's Report With LAPD Over Long-Unseen Wife Of Leader David Miscavige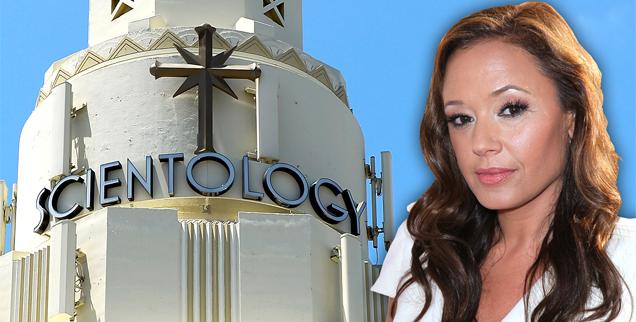 Leah Remini's putting an exclamation point on her defection from Scientology by filing a missing person's report with the Los Angeles Police Department regarding Shelly Miscavige -- the long-unseen wife of church leader David Miscavige, RadarOnline.com has confirmed.
"Our missing persons unit informed us that Leah Remini did file a missing person report on a Shelly Miscavige," a spokesperson for the LAPD said. "That is all we are going to say at this time."
Article continues below advertisement
The King of Queens star left the church last month, in part, due to the vagaries she was passed forth regarding Shelly's vanishing, sources have revealed.
The news of the LAPD filing was first reported by anti-Scientology journalist Tony Ortega.
Ortega, on his blog, reported that when she inquired about the woman's whereabouts, former spokesman Tommy Davis told the actress she "didn't have the f***ing rank to ask about Shelly."
The blog noted that while the unofficial word is that Shelly has been at the church's Lake Arrowhead compound in San Bernardino County, Calif. since "late 2005 or early 2006," neither David Miscavige (Tom Cruise's best man in his wedding to Katie Holmes) or other church officials have confirmed her presence there, or her health. (Shelly previously was believed to have been at the church's 500-acre compound in Hemet, Calif.)
MORE ON:
Church of Scientology
Article continues below advertisement
Shelly -- according to the author of Tom Cruise: An Unauthorized Biography, Andrew Morton -- introduced Cruise and Holmes. Morton wrote that following Cruise's split with Penelope Cruz, "the lovelorn actor turned to his best friend, Scientology leader David Miscavige, for help in finding a new wife … he deputized his wife, Shelly, to take over the task."
As we previously reported, Remini's criticism of David Miscavige was a key factor in her decision to leave the church.
In a statement, the Church appeared to deny that Shelly was missing. "Mrs. Miscavige is a private person and her affairs are a private matter. She continues to work in the Church as she always has," a Church official told us in a written statement.
UPDATE:
The Chuch tells Radar: "The Los Angeles Police Department has already stated that the case is closed and that the report filed by Leah Remini was unfounded. This ill-advised, ludicrous self-promotion and the media inquiries it generated caused an inexcusable distraction for the LAPD in an era when the time and resources of its officers are stretched thin each day. Creating this unnecessary burden for law enforcement was even more irresponsible given the entire episode was nothing more than a publicity stunt for Ms. Remini, cooked up with unemployed, anti-religious zealots who blog on the fringe of the Internet."