Exclusive
Scientology Tried To Recruit Brad Pitt & Bono, Reveals Church Leader's Niece Jenna Miscavige Hill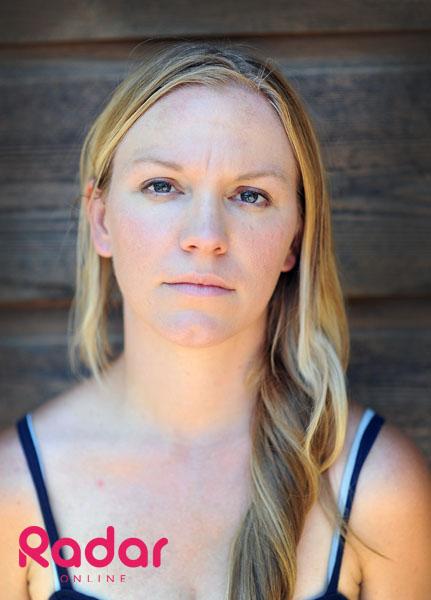 Brad Pitt studied Scientology in the early '90s before realizing the religion wasn't for him, the niece of the Church's controversial leader David Miscavige has revealed in a new tell-all interview.
The Moneyball actor, 49, was dating Cape Fear star Juliette Lewis when he went through the religion's Purification Rundown program to detox from drugs -- a battle the star has previously confessed led him down a path to depression.
Article continues below advertisement
In an exclusive interview with RadarOnline, Jenna Miscavige Hill -- who broke free from the Church after spending 21 years on the inside, including as a member of its super secret Sea Org -- also reveals how she'd been told that Irish rock star Bono had also been audited.
"There's a celebrity strategy and they're targeted for their influence, not their money," revealed Jenna, who published an explosive memoir, Beyond Belief: My Secret Life Inside Scientology and My Harrowing Escape in a blaze of publicity in February.
"They know people are obsessed with celebrities so will get more interested in Scientology.
"I think that celebrities are more inclined to be egocentric and Scientology caters for that - you're your own God. They're probably being told that all the time.
"But they're probably insecure, so the self-help of Scientology lends itself to that. And Scientology is meant to save people and the world, so the charitable thing appeals to a celebrity. If you're egocentric, not always confident or insecure because of being in public eye and want to be charitable, Scientology pushes your buttons.
Article continues below advertisement
"That's why someone like Bono would fit the bill perfectly as so many people know him.
"I heard he was receiving Scientology auditing and was at one of the Celebrity Centre Galas. Why would he need auditing? Scientology markets itself to everyone, it can deal with everything from marital problems to public speaking. He's a human, so he still needs those things."
Jenna knows the Church from the inside after spending virtually her whole life in it before defecting eight years ago.
The 29-year-old ex-member recounted how Pitt, soon-to-be-married to Angelina Jolie, went through the Purification Rundown, also known as the Purif or the Hubbard Method, a controversial detoxification program developed by Scientology's founder L. Ron Hubbard and used by the Church of Scientology as an introductory service.
Scientologists consider it an effective way to deal with the long-term effects of drug abuse or toxic exposure.
Article continues below advertisement
"I remember my mum working on renovations for the Celebrity Centre in Los Angeles and she saw Brad Pitt there," she recalled.
"I was in love with him at the time. He was in the Purification area. It's like the first step. I guess he was doing it because of his girlfriend Juliette Lewis. I know Juliette was into drugs and says Scientology saved her from them."
This is not the first time a high-profile defector has linked Pitt to Scientology: In her book Scientology -- Abuse at the Top, author Amy Scobee claimed, "In the end, Brad didn't think it was for him and he and Juliette broke up.
"He was high on the church list president's list of stars they felt could be 'recovered.'"
When asked to comment of Jenna's claims, a church spokesperson described her as having "varied and ever-shifting 'memories' from her childhood.
"At no time was Mrs. Hill ever privy to any 'priorities' or 'strategies'," the rep said.
"As a result, she is in no position to comment and any claims to the contrary must be viewed with skepticism. Our priorities are and always have been the establishment and expansion of the Scientology religion. In furtherance of this is the establishment of 37 new Scientology churches in major metropolitan areas and cultural centers around the world in just the past few years."
The spokesperson noted the church established Celebrity Centres in 1969 because of the "significant contribution to society that people in the arts represent" -- rejecting Jenna's claim they covet identities' fame and fortune.