Tom Sizemore's Sizzling Tell-All Memoir: Intimate Details Of Affairs With Elizabeth Hurley & Juliette Lewis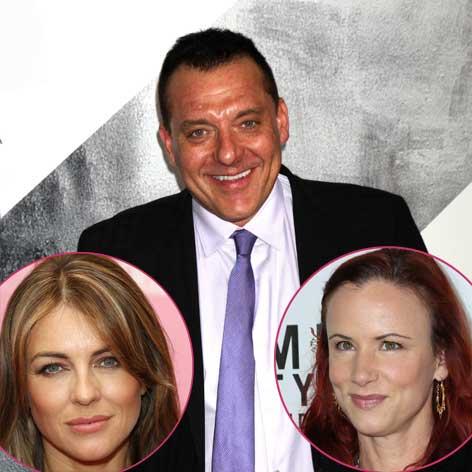 Former Hollywood hell raiser Tom Sizemore is lifting the lid on his most intimate relationships in a new tell-all book which promises to embarrass plenty of A-list stars.
The 51-year-old is releasing his memoir, By Some Miracle I Made It Out Of There, on Thursday and the UK's Daily Mail has an excerpt of the revealing book which describes in sexy detail his affairs with both Elizabeth Hurley and a teenage Juliette Lewis.
Article continues below advertisement
"I knew Brad Pitt , her former boyfriend," he wrote discussing Lewis, who was his co-star in the 1994 flick Natural Born Killers. "So I'd asked him back then if it was OK if I went after Juliette. He said 'Is it OK? I'll drive you there! I want to be your agent on this one!'
"By the time Juliette showed up on the set, I already had a huge crush on her. She was standing watching me and when the scene was done she said something like, 'Hey Tom, that was really good. I've often wanted to be strangled to death.'
"I said, 'Whenever you want to be strangled to death, you know who to call.' Later that night we used drugs and had sex. We were at the Best Western getting high and for some reason ordered 29 bowls of cornflakes.
"When the movie wrapped, I spent a lot of time at Juliette's $2.5 million Hollywood home, which had no furniture in it. She never wanted to leave, ever - not even to go outside. Essentially we were really big and really rich."
Article continues below advertisement
As RadarOnline.com previously reported, Sizemore had an affair with Hurley, while she was dating Hugh Grant.
He documented how she stripped on a coffee table for him, would make him move out of her home whenever Grant came into town and reduced him to tears when they broke up.
But the new extract from the book reveals their relationship carried on for three whole years - in fact an entire chapter is dedicated to their romance alone.
Despite their affair - during which Sizemore says he just thought Grant was "some out-of-work British actor" - he says he likes the Four Weddings And A Funeral star.
He even understands why he cheated on Hurley with prostitute Divine Brown!
"He's a guy who does the right thing. Except of course in the case of Divine Brown. And look, I get it: he likes being with different people. So do I. He just should have done it at home. But my point is that in the end, Elizabeth's loyalty was to Hugh."
Sizemore also documents taking bets with Woody Harrelson on who would sleep with Maeve Quinlan first - she later became him wife.
"I was standing next to Woody Harrelson when I saw her," he wrote about the tennis pro turned actress. "We started taking bets on who would sleep with her first. I said, 'Robert' talking about Downey. He said, 'I bet it's you or me - or maybe Oliver Stone. How about I go second and you go third?' And I said, 'I don't care when I go as long as I get a chance'."