Exclusive
Tom Cruise Forced To Defend His 'Responsibility' As A Dad In Videotaped Deposition… But Admits He Didn't See Daughter Suri For 110 Days After Divorce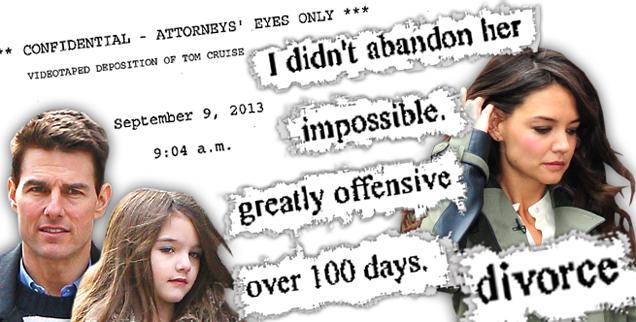 Hollywood megastar Tom Cruise has admitted under oath that he did not see daughter Suri for 110 days in the wake of his traumatic split from ex-wife Katie Holmes.
In a brutal and often tense deposition on September 9, the notoriously private actor was forced to defend his role as a loving father, amid questions about whether he chose to spend more time working as a movie star and attending to the Church of Scientology than his paternal role to his seven-year-old daughter.
Article continues below advertisement
The interrogation at the hands of New York-based attorney Elizabeth McNamara was held at the Los Angeles offices of the star's lawyer and provides a stunning insight into the Oscar-nominated actor's life and end to his five-and-a-half year marriage to Holmes, 34.
RadarOnline.com has exclusively obtained a 48 page transcript of the marathon deposition which you can read here.
"From June 18 of 2012 until Thanksgiving of 2012, you only say Suri a few times, isn't that right?" probed McNamara, the attorney representing Bauer Publishing, the parent company of In Touch and Life & Style magazines.
Article continues below advertisement
"Yes," responded Cruise.
"You saw your daughter for 10 days," added McNamara.
"I don't know the total number of days," replied Cruise.
The lawyer pressed further, "There were the three days of July 17th to the 19th, when you came into New York. Then you went to the Hamptons. Do you recall that?"
"Yes, I do," said Cruise.
Then, she said, "You saw her for 12 hours on July 26... Do you recall that? You were flying from London to Los Angeles and you stopped in New York for about 12 hours?"
"Yes," Cruise retorted.
McNamara questioned the Top Gun star about a further six days when he took Suri to Disney World.
"If you add those up, those are generously 10 days (in total)," said McNamara. "Do you have any reason to dispute that calculation?"
"None," the movie star responded.
At one point, Cruise attempted to diffuse the line of questioning by insisting he was able to effectively parent Suri by telling "wonderful stories" on the telephone — an action, he said, kept them close.
Article continues below advertisement
"You have to work at it," Cruise said.
"I've gotten very good at it. I'e gotten very good at it. I tell wonderful stories and they like hearing it."
To which McNamara replied, "It really doesn't substitute for being able to be there does it?"
Cruise replied: "No, it doesn't."
He added, "As I said, I've gotten pretty good at communicating and I also find that, you know, Suri, you know, is a very happy child and confident and has a good sense of herself."
MORE ON:
Celebrity Justice
Not deterred, the pit-bull lawyer continued to interrogate Cruise, specifically about why he could fly to London for 24 hours on October 14 to attend a Scientology event, the annual International Association of Scientology conference, but not make a similar visit to Suri.
"It was an important event," said Cruise. "I felt it was important."
Charged McNamara, "Based upon this, you could fly from the East Coast (of the United States) to London for 24 hours. Is that right?
Article continues below advertisement
"In that situation, yes," responded Cruise.
"But you didn't do it for Suri... isn't that right?" the lawyer probed.
"When did I not do it for Suri?" Cruise chimed.
"In July, August, September, October," the lawyer replied.
"That's not true… different situation," said Cruise.
"There was no 24 hour period of time that you couldn't have flown to see Suri?"
"Listen, when there is a divorce -- if you look at this also in terms of Suri coming to me and certain agreements that you have, when a divorce occurs thing change. And it's more complicated, as everyone know when that is, when that occurs, and there are certain agreements; now you have to ask for permission and organize schedules to make things happen. So it wasn't -- it's not an ideal scene. It's not an ideal situation."
McNamara pressed Cruise on whether he was "part responsible for that absence," to which the Oscar-nominee insisted: "No."
She said, "You couldn't have -- you were unable to fly for 24 hours from London to New York?"
Said Cruise: "There are many different circumstances. One, first of all, at this point when you're looking at -- you can't compare Reacher to All You Need Is Kill or Edge of Tomorrow (movies he was working on at various times). And the situation, you know, when you're thinking of your child and thinking what is the best thing for them, and of course, respecting Katie's wishes in terms of Suri's scheduling, the nature of making that film, the nature of having finished one film, and kind of -- agreements change, you know. That wasn't how the thing was set up.
Article continues below advertisement
"As I said, things change. Things change. Certainly what doesn't change is the love I have for my daughter, the fact that I didn't abandon her emotionally, physically, or otherwise. And in terms of how I feel about her in terms of the responsibility that I feel towards my child is not -- is not waned in any way."
He was also quizzed about whether he had an agreement with Holmes that prevented him from seeing Suri for over 100 days?
"Was that something that was impossible to do?" the star was asked.
To which he countered, "Unfortunately, in this situation it was impossible."
When McNamara compared Cruise's parenting to his own father, Thomas Mapother III, who reportedly left the actor when he was young and did not financially support him, the actor bristled: "The fact that you would suggest that I was being like my father… I find that greatly offensive."
Cruise is suing In Touch and Life & Style for libel and defamation; the case is expected to go to trial next year.