Exclusive
Sister Reveals Why Leah Remini Left Scientology: 'Families Were Being Broken Up. Things Were Being Done That Were Not OK'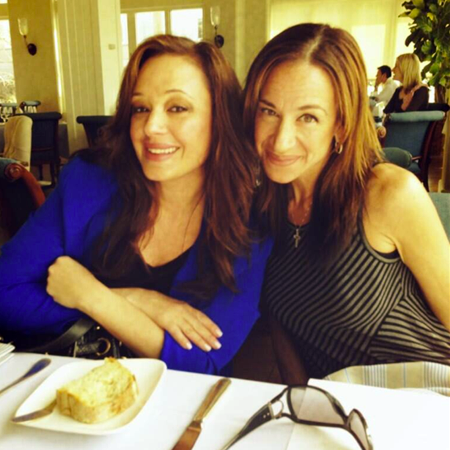 The world was stunned when Leah Remini left the Church of Scientology after nearly 30 years as a member.
Now, after much speculation, Leah's sister Nicole Remini-Wiskow is shedding light on what led to that decision in an blockbuster interview with RadarOnline.com.
"Leah saw wrong in the church and she wanted it fixed," Nicole tells RadarOnline.com exclusively. "She wanted it looked at and that's all she wanted. Policies were being broken. Families were being broken up. Things were being done that were not ok. Leah wanted it fixed and they didn't want her fixing anything. That's the bottom line."
Article continues below advertisement
A Scientologist since childhood, Leah increasingly believed that some members of the church were acting contrary to Scientology's foundational principles, Nicole says -- and she's experienced the brunt of that firsthand since leaving.
While Church reps insist they do not tell parishioners to disconnect from those who leave the church, Leah and her family have experienced what seems to be a coordinated plan of "isolation" since the split, Nicole claims.
"My mom lost two of her best friends today because the church made them choose between my mom and their children, who are on staff," Nicole tells RadarOnline.com. "They basically said, 'Under the circumstances we have to choose our kids over you and we're sure you understand.'"
"Then I just got a text from a friend who we've known since childhood, whose daughter is in the Sea Org," Nicole says. "She has been called in to talk about not being friends with us any more."
Article continues below advertisement
"My parents didn't think that it would get to this point, that they'd have to leave the church," Nicole says. "Six weeks ago my mom was really involved in the church. They thought it would be resolved. But there's this isolation."
"Leah's shocked," Nicole adds. "She just can't believe it got to this extent. What's hurtful for Leah and myself is that the church really promotes integrity within their people, but then now they're telling them 'Have no integrity and follow us and you, you're out.' Where's the integrity in that? They're telling parishioners to go against everything they've been taught. We've been Scientologists since we were like 7 so it's unbelievable."
Indeed, the church insists that such behavior is utterly against their foundational principles.
"The statements by Ms. Remini-Wiskow are absurd," the Church told RadarOnline.com in a statement. "... she hasn't been in the Church since 2005, has no personal knowledge of any events described and knows firsthand that her own sister did not 'disconnect' from her. Contrary to myths spouted by anti-Scientologists, the Church cannot and does not 'order' any parishioner to disconnect. Such a decision always has been and remains a deeply personal choice made entirely by the individual. This has been spelled out clearly on our website for years."
Article continues below advertisement
But Nicole insists there seems to be a full-scale excommunication at work, and it's affecting the whole family, even down to Leah's nine-year-old daughter Sofia Bella.
"I don't even know if Sofia gets this, but Leah would have people over every weekend and Sofia would play with their kids, but now, all of these people aren't friends with Leah any more so they won't be hanging out with Sofia any more," she says. "That's really cr***y."