Tom Cruise, Scientology Come Under Fire As Leah Remini Leaves The Church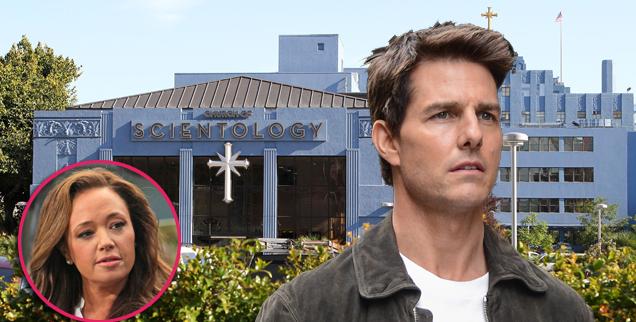 The high-profile defection of King of Queens actress Leah Remini from the church of Scientology has triggered accusations against the religion and also put Tom Cruise under fire, RadarOnline is reporting.
Remini's decision to leave the church is surrounded by reports that she was subjected to "thought modification" for five years and when the church wanted to put her through it again she refused.
Now, Remini's bold move is putting Tom Cruise – the most high-profile celebrity attached to Scientology – in the spotlight, with a key anti-Scientology journalist writing an open letter to the star and asking him to address and explain several controversial events.
Article continues below advertisement
Tony Ortega, former editor of the Village Voice, was first to report Remini was leaving Scientology. Now, he's filling in the details behind her decision and also questioning Cruise about why the wife of church leader David Miscavige has been seen in public only once in five years.
Ortega also alleges that Scientology is in worse shape than a year ago, writing that Narconon, the church's drug rehab "program", is entangled in "a mass of lawsuits and government investigations."
"Meanwhile, more Scientology defectors are bringing out stories of families ripped apart by the church's toxic "disconnection" policies and retaliation campaigns," Ortega posted in an open letter to Cruise.
As RadarOnline.com reported earlier, Remini confirmed her decision to leave Scientology with this statement:
"I wish to share my sincere and heartfelt appreciation for the overwhelming positive response I have received from the media, my colleagues, and from fans around the world. I am truly grateful and thankful for all your support."
Article continues below advertisement
Cruise's wedding to Katie Holmes in 2006 started the chain of events that eventually led to Remini leaving Scientology. Remini asked Miscavige why his wife wasn't at the event and then wrote a report about it, per church rules, according to Ortega!
Ortega wrote in his open letter to Cruise:
"You remember the stink that Leah raised at your wedding to Katie Holmes in 2006. Leah was surprised to see that your best man, Scientology leader David Miscavige, was there without his wife Shelly. And when she asked about it, Tommy Davis told her, "You don't have the f*cking rank to ask about Shelly."
Well, if you know Leah — and we know you do, Tom — you could have predicted that she wasn't going to take that lying down."
Ortega is also asking Cruise why HE didn't raise "a stink" about Shelly Miscavige apparently vanishing.
"If anyone could question what Miscavige was doing, if anyone could raise a stink about Shelly's vanishing and actually get something done about it, it was you, Tom," Ortega wrote.
Article continues below advertisement
"So we're left wondering: Why didn't you?"
The open letter to Cruise comes as Remini's defection is putting Scientology, its practices and its leaders in the media spotlight.
No one from the church was available to answer questions from RadarOnline.com on these allegations.
But Ortega is busy filling in details behind Remini's defection.
In breaking the story of her defection he wrote:
"According to our sources, Remini has been distancing herself from what she refers to as the church's "corrupt management" for a few years. And it started with a dramatic scene.
In November 2006, Remini was one of numerous celebrity guests at the wedding of Tom Cruise and Katie Holmes at a castle outside Rome. Cruise's best man was David Miscavige, who has been the church's leader since the death of its founder, L. Ron Hubbard, in 1986.
Notably absent, however, was Miscavige's wife, Shelly. Remini dared to ask about it — and loudly."
Ortega says after the event Remini wrote a "Knowledge Report" – something Scientologist are supposed to do when they see something they believe is against church rules. Her report was critical of Miscavige, Cruise, Holmes and many high-ranking Scientologists.
This is when Remini was ordered to under "thought modification" by the church, Ortega alleges and adds she was forced to rescind her reports.
Remini stayed with the church but many viewed her as a troublemaker, he says. And the New York Post added that when the church approached Remini about undergoing "thought modification" again, it triggered her decision to leave.
UPDATE: 3:15 PM PST: A rep from the Church of Scientology told us, "The Church respects the privacy of parishioners and has no further comment." The Church went on to say "on a broader level, please note the following, which is not to be construed as a comment about Ms. Remini. We have read numerous allegations about the Church in the coverage of this story that are categorically false, alleging so-called policies and practices. The allegations of "interrogations" and "thought modification" are absurd and pure nonsense, as are all the statements made about the Church's leader, Mr. David Miscavige. Under the 25-year leadership of Mr. Miscavige, following in the footsteps of our Founder, L. Ron Hubbard, the Church is enjoying tremendous expansion as shown in our new churches opening in six continents and the many new parishioners joining their congregations."