Kirstie Alley Under Attack: Leah Remini's Sister Says, 'Shame On You' As Fans Blast Her Over Scientology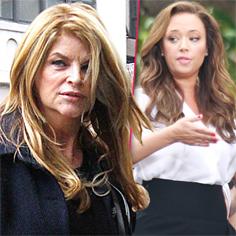 Kirstie Alley is under heavy attack, being slammed by fans about her Scientology ties and also blasted by Leah Remini's outspoken older sister Nicole, who says she wrote "Shame on you" on the star's Facebook page, RadarOnline is reporting.
Leah's defection from Scientology led Nicole to reveal unflattering details about the church, its leadership and celebrity members. And while Kirstie has avoided directly mentioning Leah, a former friend, she has sent out cryptic tweets that appear to address the situation.
Article continues below advertisement
One report claimed that Kirstie organized a gathering at the home of Leah's former best friend to discuss how a group of Scientologist would "disconnect" from Leah. The report is unconfirmed and Kirstie,, again not addressing it directly, appears to be denying it through Twitter. (Scientology denies that it asks members to "disconnect" from people who leave the church.)
Asked about Kirstie's alleged actions, Nicole told Twin Cities radio station MyTalk 107.1: "I even think about Kirstie Alley. I just wrote on her Facebook page, 'Shame on you.'"
She added: "So Kirstie jumped on the cuckoo train with (church head) David Miscavige. Because this is what's funny to me, "really, Kirstie? When was the last time you hung out with my sister?" I mean, I don't remember Kirstie ever being at my sister's house. We've been to Kirstie's. Maybe 10 years ago. Maybe they've seen each other at events. But when hurricane Sandy happened, Leah reached out the Kirstie, and said, "Hey, let's get some generators and see what we can do to help, let's do this." And Kirstie never even called Leah back. This is before everything happened."
Article continues below advertisement
Nicole is not the only one who is going after Kirstie.
The star's Facebook page, which heavily promotes the sale of a weight-loss product she endorses, is filled with comments blasting her about Remini and Scientology.
"YOU HAVE NO business attacking Leah. You are the exact reason why religions break down," one person wrote.
Other anti-Kirstie comments include:
"I won't be buying any of Kirstie's products. She'll be giving it to the Church of Scientology."
"She is a $cientologist and believes in things that don't work..."
"I hope this Leah Remini backlash renders you the lame soul you are. You claimed to be her friend, but you weren't."
Messages of support for Kirstie are scattered throughout the page but the Remini defection, and Nicole's revelation that Kirstie once wrote a "knowledge report" about Leah, has caused huge backlash against the former Cheers star.