Brooke Mueller Resists Bid To Test Twin Sons Max & Bob For Fetal Alcohol Syndrome: Report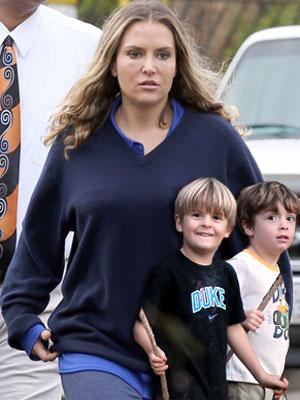 UPDATE 9:52 a.m. — Los Angeles County of Department of Children & Family Services are no longer recommending that Charlie Sheen and Brooke Mueller's twin sons, Bob and Max, be tested for fetal alcohol syndrome, RadarOnline.com has been told. After recommending they be tested last November, "DCFS is now backing down," a source explained. "The agency isn't taking a position on whether or not the boys should be tested." Sheen, 48, wants the boys tested, we're told. Mueller, per our story below, does not. It will now be in the hands of a judge to decide.
Article continues below advertisement
While Brooke reportedly thinks the children are OK and the test is unwarranted, Sheen is reportedly pushing for the test to be administered, under the rationale of diagnosing any issues the children might have as a result, and treating it.
As we previously reported, the boys' rambunctious behavior fell under the microscope during the time they stayed with their father's ex-wife Denise Richards, who told authorities her daughters had "been strangled, kicked in the head and stomach, scratched, bit, slapped, punched in the face and head, and spit on" by the boys, who treated the family dogs in the same manner.
Article continues below advertisement
In another instance, Richards said the boys relieved themselves in their younger sister's bathtub, then scattered the remnants all over the room.
Sheen in the past has said said he fears for his sons "every second that" they're with Mueller.
"There's stuff going on here that's so criminal, and so unacceptable it's beyond the pale," he said a few months back. "And we're talking about two four-and-a-half year olds," adding that Brooke's home was "filled with felonious descriptions of child endangerment."
Sheen and Mueller are headed for a family court hearing Thursday, according to reports, when a test can be ordered the test at the judge's discretion.