Exclusive
Brooke Mueller Believes Child Protective Services 'Out To Get Her'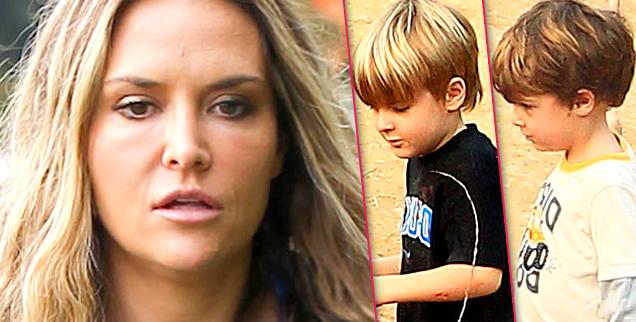 In the wake of "mystery evidence" being presented to Department of Children and Family Services in her ongoing custody battle, socialite Brooke Mueller is privately complaining that authorities are "out to get her," RadarOnline.com has been told.
Mueller, 36, believes the Los Angeles Department Of Children & Family Services has a personal vendetta against her and is deliberately sabotaging her attempts to regain custody of twin sons, Bob and Max, 4, with ex-husband Charlie Sheen.
Article continues below advertisement
A source revealed: "Brooke is beyond furious with DCFS and thinks they are working against her to get custody back of the boys.
"According to Brooke, all of her drug tests have been clean and she has done everything asked of her.
"The carpet has been pulled out from underneath her feet and she just wants her boys back.
"She truly believes the authorities are out to get her and to make an example out of her. The harsh treatment she is getting is because Brooke believes she is a celebrity and was married to Charlie Sheen, who as everyone knows, has been extremely critical of DCFS."
As RadarOnline.com revealed, Mueller had been on track to regain custody of the troubled boys, but suffered a huge setback when child protective services received supposed evidence that revealed inconsistencies with her drug treatment program.
Plans to give the boys back to Mueller were subsequently put on hold.
Last summer, Mueller — who starred on Paris Hilton's The World According to Paris — lost custody of the children after she was placed on an involuntary psychiatric hold stemming from a drug overdose.
Article continues below advertisement
Sheen's second ex-wife, Denise Richards, had temporary guardianship of the boys until she was forced to give them up because of their violent and aggressive behavior towards her daughters and family pets, as detailed in a leaked letter she sent authorities.
According to Richards, her daughters were "strangled, kicked in the head and stomach, scratched, bit, slapped, punched in the face and head and spit on" by the boys, as have the family dogs.
One night, she claimed, they even broke into their baby sister's room and relieved themselves in her tub, flinging their feces all over her bathroom.
Richards has battled to have the boys evaluated for such unimaginable acts, but said that she has been stymied at every turn by Mueller.
The twins are in very serious danger of being placed in foster care because Mueller's brother Scott — who has temporary guardianship of the boys -- is also the focus of the new investigation.
On Thursday, the judge ordered an administrative hearing to be held in mid-January, to deal with the findings of the investigation.
A source inside the investigation told RadarOnline.com: "DCFS will continue to investigate the new evidence. There is no vendetta against anyone in this case, period. The motivating factor has, was and always be the safety and well-being of Bob and Max."