Exclusive
Brooke Mueller Suffers MAJOR Setback In Bid To Regain Custody Of Twins… After Mystery Evidence Is Presented To Child Protective Services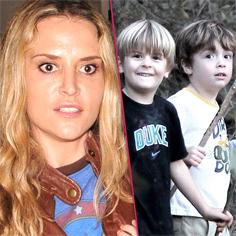 Child protective services' plan to finally grant Brooke Mueller custody of her twin sons with ex-husband Charlie Sheen is on hold after "inconsistencies" were uncovered in what she told them about her drug treatment and what actually took place, RadarOnline.com has learned.
"Information has been given to the Department of Children and Family Services regarding Brooke's treatment that contradicts what she had told social workers," a source with direct knowledge of the situation said.
Article continues below advertisement
"Naturally, the information has to be fully investigated given that Brooke has been to rehab more than 20 times and there are two minor children involved."
As a result, the department has iced its plans to move Bob and Max, four, from their temporary guardianship with Mueller's brother Scott.
The Palm Beach socialite will now have to front child dependency court on Thursday when the contentious information is formally submitted to the judge overseeing the case.
The source would not specify what the information was, but said, if substantiated as true, it would be "absolutely shocking."
Mueller, 36, lost custody of the twins after being placed on a psychiatric hold earlier this year after a drug overdose.
In the wake of that incident, the kids had been at the center of a bitter dispute, which included shocking photographs of Bob being presented to DCFS that allegedly showed "injuries" the toddler had sustained whilst in the care of either of his mother or grandmother.
Mueller privately denied she caused the supposed injuries — a large red welt on the right side of his face — under his hairline and in front of his right ear.