Exclusive
Shocker! Drug Troubled Brooke Mueller 'On Track' To Regain Custody Of Charlie Sheen's Twins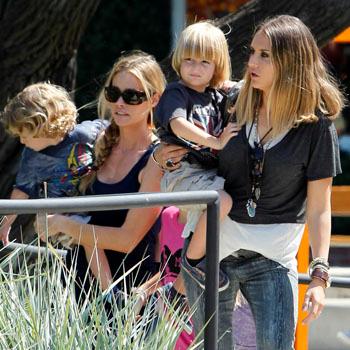 She won't be winning accolades as mother of the year anytime soon, but rehabbing socialite Brooke Mueller has impressed child protective services officials with her commitment to a newfound sobriety — so much so — she's on track to regain custody of her tots with actor Charlie Sheen!
"There will be a hearing in child dependency court in December and the judge will determine if Brooke should be reunited with the boys, at that time," a source connected to the case told RadarOnline.com exclusively.
Article continues below advertisement
"She has impressed social workers from the Los Angeles County Department of Children & Family Services. Quite remarkably, given how low she has been, Brooke is now on track to get the boys back."
We broke the story: Twins, Bob and Max, both four, were taken from the Palm Beach socialite in May when she placed on an involuntary psychiatric hold after overdosing on crystal methamphetamine.
In a seemingly unorthodox move, a Los Angeles judge granted Sheen's second wife, Wild Things actress Denise Richards temporary guardianship of the children with the blessing of the Anger Management star.
Revealed an insider: "All of Brooke's random drug tests given by the outpatient facility where she is being treated have been negative and she has done everything asked of her. Brooke's lawyers are preparing to argue that she is on the road to sobriety and the twins should be with their birth mother."
Sheen's third wife has also been taking parenting classes and behaving appropriately when she has supervised visitation with her children, the insider said.
Article continues below advertisement
When asked why if the twins are thriving in Richards' care, would they be moved, again, the source insisted: "The goal of CPS is always for reunification of families because the belief is that it always better for a natural birth parent to be the primary caregiver."
The insider added, "In this case, despite Brooke's history of repeated stints in rehab and a 15 year addiction to drugs, social workers feel that the boys are better off with her -- provided she stays clean."
However, in the event the 36-year-old failed a test between now and December, "the judge, of course, would likely rule that the boys are better off with Denise. Brooke knows what is on the line," the source added.