Exclusive
Little Boys Lost: Charlie Sheen's Twins With Brooke Mueller In Danger Of Being Placed In Foster Care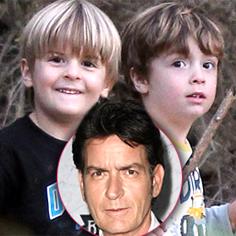 UPDATE: The judge ordered an administrative hearing to be scheduled at the conclusion of the investigation stemming from new information child protective services received regarding inconsistencies of Brooke's drug treatment.
* * *
Charlie Sheen and Brooke Mueller's twin sons Bob and Max could be spending Christmas with complete strangers. RadarOnline.com has learned that the four-year-old twins are in very serious danger of being placed in foster care, after Child Protective Services was presented with mystery evidence revealing major inconsistencies in Mueller's drug treatment program.
Article continues below advertisement
"There is a very real possibility that Bob and Max could be placed in foster case because evidence was also uncovered regarding their temporary guardian, Scott, that is riddled with glaring differences in version of events," a source close to the situation tells RadarOnline.com exclusively. "The department is taking this very seriously, and are considering recommending the boys be placed in foster care, pending the outcome of the investigation."
"Charlie can't get custody of the boys, even if he were to have round the clock nannies because of his past behavior," the source explains. "Brooke's parents won't be considered. It's such a sad situation, but the safety and well-being of the boys comes first. Such drastic action wouldn't be taken unless it was necessary, and sadly, it is."
The boys had been on track to be placed back in their mother's care by Christmas.
Mueller's brother, Scott, was recently granted temporary guardianship of the boys, after Denise Richards was forced to give them up because of their violent outbursts towards her daughters, Sam, Lola, Eloise, and the family pets.
Last summer, Brooke lost custody of the boys after being placed on an involuntary psychiatric hold stemming from a drug overdose.
Now, the Los Angeles County of Department of Children & Family Services is set to go before a judge in child dependency court on Thursday, requesting an administrative hearing to be scheduled based on the new information presented to the agency. Mueller is required to be in court on Thursday, and sources say Sheen isn't expected to attend.