Exclusive
Charlie Sheen 'Disgusted' Child Protective Services Allowing Brooke Mueller's Own Employee To Conduct Her Drug Tests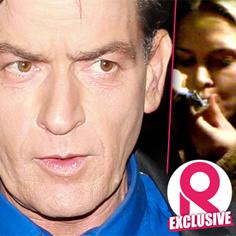 Anger Management star Charlie Sheen is 'absolutely disgusted' the Los Angeles County Department of Children & Family Services is allowing ex-wife Brooke Mueller's sober coach to conduct her drug tests as she tries to regain custody of their twin sons, Bob and Max, RadarOnline.com is exclusively reporting.
"Charlie suspected that Brooke's drug tests weren't being conducted by an independent person/agency because his lawyer had been asking for the results of those tests, and was shot down every time. On Thursday morning after RadarOnline.com published the shocking news that Brooke's drug tests were being done by her long time sober coach, and paid employee, Carmine Thompson, Charlie was absolutely disgusted," a source close to Sheen told RadarOnline.com.
Article continues below advertisement
"He doesn't understand why DCFS and the judge would allow this. It doesn't make any sense at all. If Brooke didn't have money, she would be required to submit a test to a laboratory appointed by officials. She is calling all the shots! Remember, this is someone that has been to rehab over 20 times, and twice while pregnant!"
Thompson, a respected board registered interventionist, is employed by Mueller, 36, and has been on/off for the last five years.
However, there is no suggestion that Thompson is doing anything improper.
In an interview with Entertainment Tonight, Thompson denied that the ex-reality star recently returned a positive test for Adderall, the amphetamine used to treat attention deficit hyperactivity disorder.
He did, however, confirm that Mueller has a prescription for the drug.
It's the same drug she blamed for sending her to rehab — her 19th stint — last December and comes after an angry Sheen tweeted at the weekend that his third ex-wife was an "adderol sic snorting husk."
Said another source: "Carmine would never put his name on the line unless he could prove that the drug tests were credible."
Expect Sheen's lawyer "to formally ask the judge in child dependency court at the next hearing for Brooke to be drug tested by an accredited lab that is independent," the source added.
"There is absolutely no reason DCFS should allow Brooke to be tested by one of her employees. It makes no sense, and needs to change, now."