Exclusive
Shocker! Brooke Mueller Returns Positive Test For Adderall — The Same Drug Which Sent Her To Rehab — But She'll Still Regain Custody Of Twins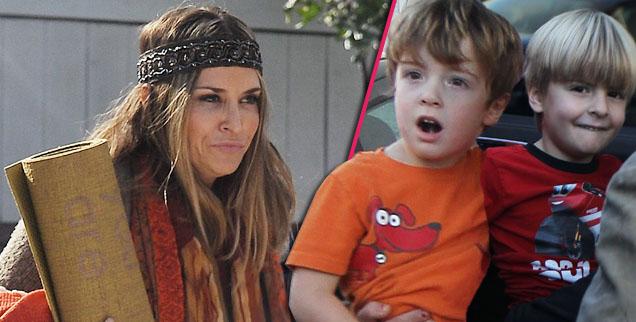 The ex-wife of Charlie Sheen told a judge recently that she's been stoically sober for seven months, but RadarOnline.com has learned, Brooke Mueller recently returned a positive test for Adderall, the amphetamine used to treat attention deficit hyperactivity disorder.
It's the same drug she blamed for sending her to rehab — her 19th stunt — last December and comes after an angry Sheen tweeted at the weekend that his third ex-wife was an "adderol sic snorting husk."
Article continues below advertisement
The mother of troubled twins Bob and Max, four, "tested positive for amphetamines under the court ordered drug tests she is required to take," a source with direct knowledge of the situation revealed to RadarOnline.com.
"However, the hair follicle test revealed that the positive result was from the Adderall that she takes for ADHD and has a prescription for. There is no indication that she is abusing crystal methamphetamine, as she has done in the past."
What makes Mueller's use of Adderall somewhat perplexing is her previous abuse and efforts to get clean of the prescription drug.
"Brooke was uncomfortable with the way Adderall was making her behave," her attorney Yale Galanter said previously.
Said a source: "Brooke has snorted and smoked Adderall in the past. There is no way to determine if Brooke is snorting or smoking it, or if she is taking it in the pill form, as prescribed.
Article continues below advertisement
"But if Brooke was truly serious about her sobriety, you would have to think that she wouldn't be taking Adderall. Someone with her extensive addiction to crystal meth can be treated with another class of prescription drugs that aren't amphetamine based."
Despite this revelation, the source added that socialite Mueller, 36, is still on track to regain full custody of her twins with the Anger Management star and that child protective services don't view this as a violation because of her prescription.
In the meantime, a Los Angeles judge is expected to formally sign off on Mueller's brother, Scott, becoming the temporary guardian of the boys in the wake of Denise Richards' explosive letter which detailed how the children have transformed from "kind and loving" young boys to "zombie-like" who exhibit "extreme violent mood swings" and "violent behavior."
The judge will also determine if Sheen, 48, will be jailed for contempt after breaking the gag order at the weekend that had been imposed on the case.
Article continues below advertisement
He wrote on Twitter: "So lemme see if I got this straight ... my twin boys are now in harm's way and in grave danger, being 'raised' by a gaggle of incompetent and lascivious marionettes all ruled and fooled by an Adderall snorting husk called Brooke."
"And guess what CPS and 'I'm Italian' judge anus-brain, you may have gagged me temporarily, but mark my unspoken words, anything happens to my boys, and you will get to know me, know who I truly am, a loving father."
He ended the missive, "Tag -- I'm it."