Exclusive
Role Reversal: Charlie Sheen Thinks Brooke Mueller Is A 'Saint,' As She Grants Him Visitation With Twin Sons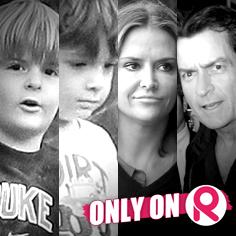 Talk about a backflip: Less than three months after Charlie Sheen called his ex-wife Brooke Mueller an "adderall snorting husk," the outspoken actor is boasting to pals that his ex-wife is a "saint" after she paved the way for him to spend time with his troubled twin sons, Bob and Max, four.
The Hollywood megastar, 48, is now fully supporting the Palm Beach socialite's bid to regain custody of their sons, who have been at the center of a bitter custody fight since she was placed on an involuntary psychiatric hold at the UCLA Medical Center in May last year.
Article continues below advertisement
Bob and Max -- labelled "zombie-like" boys who exhibit "extreme violent mood swings" and "violent behavior" — are currently being cared for by Brooke's brother, Scott, under the order of a Los Angeles court.
Revealed a source: "Even though Brooke doesn't have legal custody of the boys, she does have the final say in allowing the boys to spend time with Charlie. She has permitted the boys to spend at least three days a week with their father, including at least one overnight visit. The visits always take place with a monitor present, at Charlie's expense, to make sure everything goes smoothly."
Included in those visits is Sheen's porn star girlfriend Brett Rossi, a source told RadarOnline.com.
"Brett loves spending time with the boys and has gone swimming with them in Charlie's pool. It wouldn't surprise anyone if she were to become pregnant as she and Charlie have already talked about starting a family together," said one Sheen insider.
RadarOnline.com broke the story: A fragile and surprising peace broke out between Sheen and Mueller after the star's serial rehabbed ex-wife, 36, allowed him to finally visit the boys in January.
Article continues below advertisement
It also coincided with the breakdown of Sheen's "Modern Family" relationship with second ex-wife Denise Richards, who he blasted as a "pig" and "media ho" in a degrading Twitter tirade.
One of the reasons for Mueller's change in position was, said one source, because she was "desperate" to have $55,000 in child support re-instated after it was slashed in half when she lost custody of the boys in the wake of being placed on an involuntary psychiatric hold after a drug overdose in May.
"Charlie is prepared to head back to family court and reinstate the monthly child support payments ($55K) to Brooke," said a source.
"He is extremely happy with the progress she has made in her recovery program and it's only a matter of time before child protective services signs off on allowing Brooke to regain custody of the boys."