Exclusive
Truce: As Charlie Sheen Feuds With Denise Richards, One-Time Arch-Nemesis Brooke Mueller Allows Twins To Spend Time With Him… And His Porn Star Girlfriend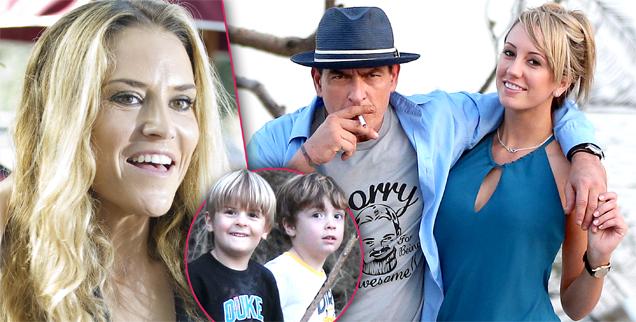 She saw a window of opportunity and took it.
Brooke Mueller, the perpetually rehabbed ex-wife of Charlie Sheen, allowed her troubled twin sons with the actor to spend two hours with their dad and his porn star girlfriend on Tuesday night, RadarOnline.com has exclusively learned.
It's a stunning and somewhat surprising move from Mueller, 36, who has been engulfed in a bitter custody war with Sheen, 48, during which he labelled her an "adderall snorting husk" who was a danger to Bob and Max, four.
Article continues below advertisement
It also coincides with the breakdown of Sheen's "Modern Family" relationship with second ex-wife Denise Richards, who he blasted as a "pig" and "media ho" in a Twitter tirade on Tuesday.
Revealed a source: "Brooke allowed Bob and Max to go over to Charlie's house on Tuesday night for two hours. Charlie introduced Brett (his adult actress partner Brett Rossi) to the boys and he was very impressed with how maternal she was, even though she has no kids of her own."
A monitor was present for the entire visit, a source confirmed.
"When the allocated time was up, the boys were turned back over to Brooke's brother, Scott, who has temporary guardianship of Bob and Max," the insider close to Sheen told RadarOnline.com. "Brooke wasn't present for the visit because she has a restraining order against Charlie."
It was the first time Sheen had seen the children since before Christmas.
Article continues below advertisement
The actress' letter Los Angeles County Department of Children and Family Services triggered the breakdown of her once cordial relationship with Mueller, who later accused Richards of endangering the wellbeing of the twins — a claim which was never substantiated.