Charlie Sheen's Crude Message To Denise Richards After Eviction Threat: 'I Own The Farm, You Are Only A Pig In The Pen'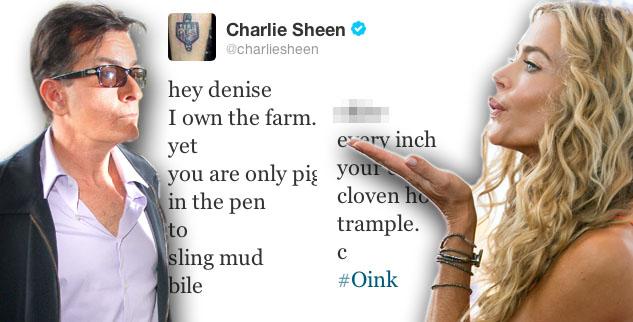 Article continues below advertisement
An hour later, Sheen released yet another message to Richards calling her a "media ho."
As RadarOnline.com previously reported, Rossi's jealousy has convinced Sheen to evict Richards from a house he owns in his swanky Mulholland Estates neighborhood.
"Charlie's daughters, Sam and Lola go to school nearby. Brett wants Denise out of the neighborhood because she is insanely jealous of her," a source close to Rossi told RadarOnline.com.
"She complains that whenever she leaves the gated community, she is forced to drive by Denise's house, and she just doesn't like it. Charlie's people told Denise he wants her out, and he didn't tell her because they aren't talking at the moment."