Exclusive
Pack Your Bags: Charlie Sheen Moves To EVICT Ex-Wife Denise Richards From Neighborhood Where He Lives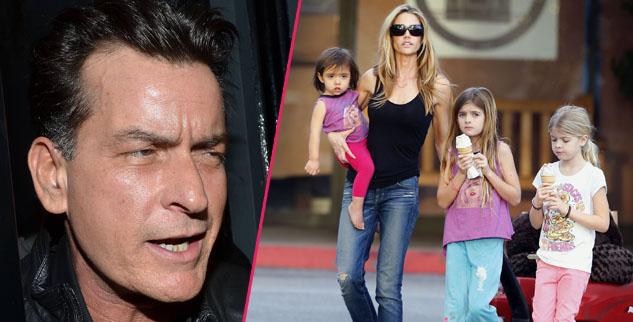 Charlie Sheen's porn star girlfriend Brett Rossi is so insanely jealous of his ex-wife, Denise Richards, that she has convinced the Anger Management star to evict his baby mama from a house he owns in the swanky gated community they share, RadarOnline.com is exclusively reporting.
Denise and daughters Sam, Lola and Eloise "have lived at one of the house's Charlie owns in Mulholland Estates for about a year. Charlie's daughters, Sam and Lola go to school nearby. Brett wants Denise out of the neighborhood because she is insanely jealous of her," a source close to Rossi told Radar.
Article continues below advertisement
"She complains that whenever she leaves the gated community, she is forced to drive by Denise's house, and she just doesn't like it. Charlie's people told Denise he wants her out, and he didn't tell her because they aren't talking at the moment."
Sheen, as of late, has been on rocky terms with Richards. Her lukewarm invitation regarding a holiday trip with their daughters Sam and Lola led to the Wall Street star to lash out at her Twitter, and intimate she'll take a financial hit — vis a vis a reduction of the $55,000 a month he pays her in child support — for leaving him out of the loop. (He hash-tagged a subsequent tweet Wednesday, "#TooMuchChild$upport.")
Even though Sheen has only been dating his latest porn star girlfriend for just over a month, the Hollywood hell-raiser has purchased her a brand new Mercedes Benz and Rossi has moved into his house.
All of the drama involving Sheen and Richards began after he started dating Rossi and she told him to cut off all contact with Richards when they began dating.
The 9,000 square-foot mansion was bought by Sheen from Hollywood mogul Mike Medavoy in 2011 for $7 million. The house boasts six bedrooms and nine bathrooms, has a sparkling swimming pool, lush grounds and gourmet kitchen.
Article continues below advertisement
Mueller has been living at a condominium in the Valley when she doesn't have visitation with the boys.
Rossi won't be happy until "she is Mrs. Charlie Sheen, which will be sometime very, very soon," the insider added.
"In just a short amount of time she has completely taken over his life -- from successfully convincing Charlie to fire his three top advisers, to limiting the time he spends with his friends."