Exclusive
Charlie Sheen's Three Most Loyal Advisors Quit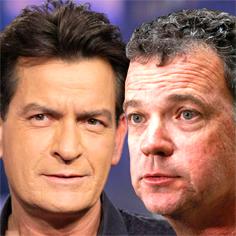 Not winning! Charlie Sheen's world is crumbling around him, because as RadarOnline.com has exclusively learned, three of the actor's closest and most loyal advisors have suddenly quit.
Longtime manager Mark Burg, publicist Larry Solters and entertainment lawyer Jake Bloom resigned from their posts last week, multiple sources confirmed.
Revealed one insider: "The bottom line was that Mark, Larry and Jake were unable to work effectively for Charlie. He is too much of a loose cannon at the moment with his increasingly erratic and bizarre behavior and outrageous statements. He was refusing to listen to their advice and counsel."
Article continues below advertisement
"Things have been extremely chaotic in Charlie's camp for several weeks, ever since he began dating Brett," said another insider.
"His team expressed concerns over the relationship… He was not happy with being questioned about who he was dating, so Charlie fired them all. Brett had also encouraged Charlie to get rid of Mark, Larry and Jason because she believed they didn't like her and were sabotaging the relationship."
Article continues below advertisement
Said the source: "Brett is calling all the shots in Charlie's life at the moment and they have only known each other for six weeks! People close to Charlie believe the relationship will eventually fizzle out, but his career could be in tatters by that point."
Burg and Sheen have fallen out many times in the past, most notably during Sheen's epic 2011 meltdown which saw him lose his multi-million dollar job on Two and a Half Men.
At the time, Mueller claimed her ex-husband sent her a scathing, anti-Semitic text about Burg, saying: "I must execute mark b Mark Burg like the stoopid jew pig that he is."
It's not totally the end of the pair's working relationship; both remain executive producers on Sheen's FX comedy series Anger Management.