Exclusive
Jealous, Much? Charlie Sheen's New Girlfriend Demands He Cut Off Contact With Denise Richards -- Or Get Dumped!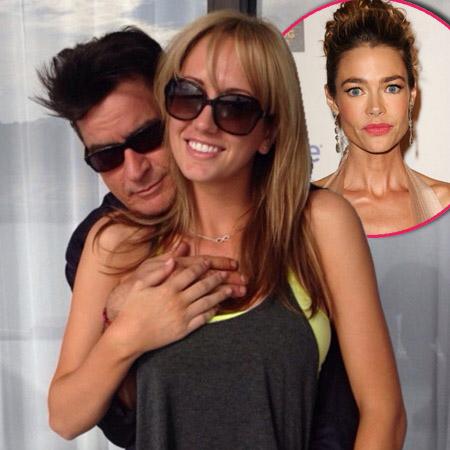 More than eight years after Denise Richards and Charlie Sheen's bitter divorce, the couple seemed to have put their differences aside for the sake of their daughters, Sam and Lola -- until now. Sheen has once again declared war against his ex, and RadarOnline.com has exclusively learned that his new girlfriend, former porn star Brett Rossi is to blame. According to sources close to Sheen, Rossi became so jealous of the exes' closeness, that she issued Sheen an ultimatum: Cut off all contact with Richards or get dumped!
Article continues below advertisement
Although Sheen and Rossi have been dating for just a few weeks, sources say her jealousy reared its head from the very start, when Sheen told his new girlfriend he intended to spend Thanksgiving with Richards and his daughters. A source close to Sheen tells RadarOnline.com exclusively, "Brett told Charlie she wanted to go out of town for Thanksgiving. At the last minute, Charlie scrapped his plans with Denise and their kids, with no explanation, and jetted off with Brett to Cabo."
And once the new couple returned to Los Angeles, sources say, the drama escalated. "Brett demanded Charlie cut off all contact with Denise even though they've been nothing more than friends for years," an insider explains. "Charlie's friends are upset and angry with him for allowing her to dictate who he can be friends with. His inner circle of pals on the payroll are on pins and needles, because they're afraid that Brett might tell Charlie to get rid of them too!"
Article continues below advertisement
With Christmas around the corner, Sheen and Richards aren't talking -- except for a bitter Twitter rant Sheen posted this weekend. He wrote, "The lie is over. I'm done being treated like a relative with a one-way ticket. #DuhNeese."
According to reports, Richards even banned him from spending Christmas with the girls. But a source tells RadarOnline.com, "Of course Charlie is welcome to spend Christmas with Denise and the girls but it hasn't even been addressed!"
Sources say he's also unlikely to spend time with his twin sons with ex-wife Brooke Mueller, Max and Bob, since they are currently in the custody of Mueller's brother, Scott.
While his treatment of Richards is just what his new girlfriend asked for, according to insiders, others around him are stunned at his behavior. "His friends just can't believe that after everything Denise has done for him, from taking care of his twins, to telling Child Protective Services what a great dad he was in a letter she wrote, that he is now going on the warpath against her," a source close to Sheen says. "It's really stupid, and sad."
"Charlie is only hurting himself because Denise has always been in his corner, and a great friend to him," the source continues. "She has done nothing to deserve this."