Charlie Sheen Celebrates With New Porn Star Girlfriend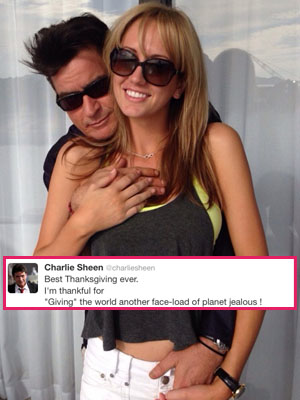 Charlie Sheen seems to have a type. His latest girlfriend is...you guessed it...a porn star.
The sexy blonde who is the current object of Sheen's affection is Brett Rossi, and she's along for the ride on the Anger Management star's vacation in Cabo San Lucas, Mexico.
Rossi, who specializes in lesbian porn, has starred in such classics as She Loves My Big Breast 2 and Me and My Girlfriend 3 and 5.
Always up for an adventure, she even went along on Sheen's fishing trip -- he charted a luxury fishing boat -- and posed for countless pics with her new man.
Article continues below advertisement
Sheen even tweeted one of them himself.
With his arms wrapped tightly around Rossi, Sheen commented, "Best Thanksgiving ever. I'm thankful for 'Giving' the world another face-load of planet jealous!'
We're guessing he wasn't spending too much time thinking about his ex-wife Brooke Mueller and their twins this weekend.