Exclusive
It Pays To Date The MaSheen: Charlie Sheen Buys Porn Star Girlfriend Brand New Mercedes!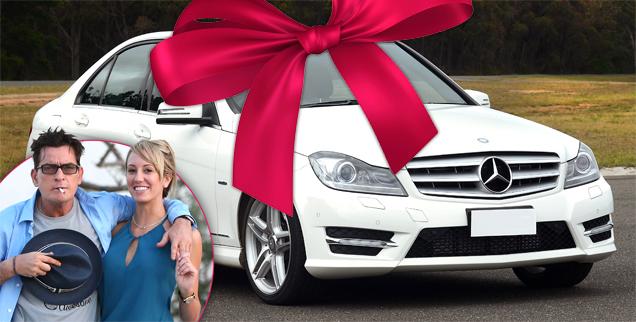 Six weeks for a V6!
Even though Charlie Sheen has only been dating his latest porn star girlfriend, Brett Rossi, for just over a month, the Hollywood hell raiser has purchased his latest love conquest a brand new Mercedes Benz, RadarOnline.com has learned.
"Charlie always buys his girlfriends new cars when they begin dating, or gives them access to one of the vehicles in his fleet," an insider close to Sheen, 48, revealed. "Two weeks ago, Charlie bought Brett the Mercedes. It's not in Brett's name, though. It's in Charlie's. He never puts the cars in his girlfriend's name!"
Article continues below advertisement
The source revealed that maneuver is a calculated move on behalf of the Anger Management star: When the relationship goes south, "Charlie still gets the car back!"
"It's typically delivered back to his Beverly Hills estate on a flat bed truck," the source added.
That's not all! The perks of being Sheen's girlfriend also include a credit card — in his name, of course — which was used when Rossi took a girlfriend to a Los Angeles-based spa on Tuesday.
"Sheen paid the entire bill!" dished one source.
What's more, RadarOnline.com has also learned that after demanding Sheen cut off all contact with ex-wife, Denise Richards, XXX-star Rossi is being whisked to Europe by the actor for Christmas.
"Brett is so excited to be spending Christmas with Charlie in Europe and is loving the lifestyle of private jets, fancy dinners and designer clothes," said the source.
"The trip will include five-star hotels, in over the top suites. Needless to say, this is a big departure from previous Christmas' Brett has experienced!"
Article continues below advertisement
Said another source: "His team expressed concerns over the relationship… He was not happy with being questioned about who he was dating, so Charlie fired them all. Brett had also encouraged Charlie to get rid of Mark, Larry and Jason because she believed they didn't like her and were sabotaging the relationship.
"Brett is calling all the shots in Charlie's life at the moment and they have only known each other for six weeks! People close to Charlie believe the relationship will eventually fizzle out, but his career could be in tatters by that point."