Exclusive
Pack Your Bags: Charlie Sheen Negotiating Sale Of Mansion He Bought For Ex-Wife Brooke Mueller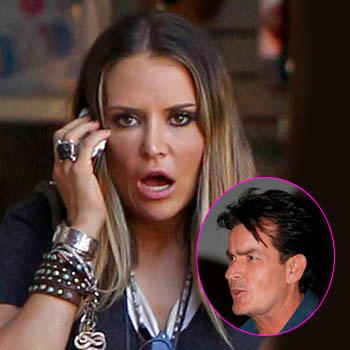 Brooke Mueller's days in a mansion owned by Charlie Sheen in the swanky Mulholland Estates gated community are numbered, because the Anger Management star may have a potential buyer for the $4.8 million digs, RadarOnline.com is exclusively reporting.
Under the terms of a custody agreement with the Los Angeles County Department of Children & Family Services, Mueller is only allowed to be in the house during her custodial time with Sheen's twin sons, Bob and Max.
Article continues below advertisement
"Charlie knows someone that is extremely interested in buying the house. He hasn't formally listed the house for sale, because he is hoping to just do a private sale, without having the bother of putting it on the market," a source told Radar.
"Brooke might be out of the house by the end of the year. If Charlie's potential buyer backs out, he will formally list it. The house will likely sell very quickly because inventory is extremely low, and Mulholland Estates is a very desirable place to live."
Mueller's brother, Scott, was recently granted temporary guardianship of the boys after Denise Richards told social workers she could no longer care for them after the twins began displaying fits of violence and aggression towards her daughters and pets.
Mueller has been living at a condominium in the Valley when she doesn't have visitation with the boys.
Sheen and Richards also live in Mulholland Estates, and both "are obviously looking forward to the day when Brooke is finally out of the neighborhood. The idea when Charlie bought the third house in the gated community, was that all of his kids would be living close by, and it would be a large extended family," the insider added.
Article continues below advertisement
"Obviously, with Brooke's 22nd trip to rehab and all of the drama that has brought on, Charlie thinks it was a huge mistake to have bought the house."
Despite just being placed on an involuntary psychiatric hold after a drug overdose six months ago, Mueller is now on track to regain custody of the twins by the end of the year.
The former reality star's child support payments of $55,000 were slashed in half several months ago.
However, once Mueller gets the boys back, Sheen will begin paying her the full amount once again.