Exclusive
Denise Richards' Stunning Backflip: Charlie Sheen's Ex-Wife Willing To Take On Guardianship Of His Troubled Twins -- Again -- So They Don't Go Into Foster Care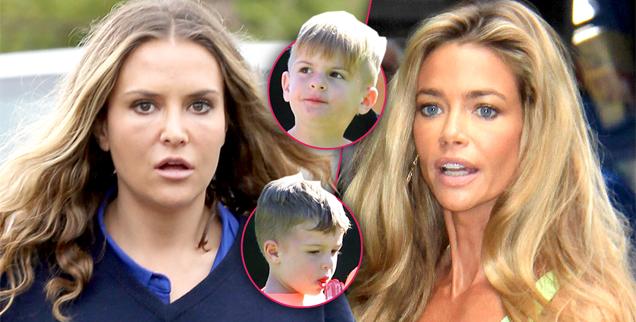 After giving up Charlie Sheen and Brooke Mueller's twin sons last month, RadarOnline.com is exclusively reporting that Denise Richards has told child protective services she doesn't want Bob and Max to be placed in foster care, and would be willing to take them back.
RadarOnline.com broke the heartbreaking news – the twins are in imminent danger of being placed in foster care after the Los Angeles County Department of Children & Family Services were presented with evidence revealing major inconsistencies in their mother Brooke's drug treatment program.
Article continues below advertisement
"Denise reached out to DCFS and said under no circumstances does she want Bob and Max to be placed in foster care. Social workers were impressed with Denise's commitment to the boys. If the boys were to come back to Denise, she said they would have to be properly tested and assessed for their behavioral issues. She never wanted to give the boys up, but Brooke refused to allow them to be seen by doctors," a source close to the situation told RadarOnline.com.
Last summer, Brooke lost custody of the boys after being placed on an involuntary psychiatric hold stemming from a drug overdose.
Her brother, Scott, was recently granted temporary guardianship of the boys, after Richards was forced to give them up because of their violent outbursts towards her daughters, Sam, Lola, Eloise, and the family pets.
In a distressing letter to child protective services, Richards explained why she had to give up temporary guardianship of the boys.
Article continues below advertisement
According to Richards, her "daughters have been strangled, kicked in the head and stomach, scratched, bit, slapped, punched in the face and head, and spit on" by the boys, as have the family dogs. One night, she claims, they even broke into their baby sister 's room and relieved themselves in her tub, flinging their feces all over her bathroom. Richards has battled to have the boys evaluated for such unimaginable acts, but says that she has been stymied at every turn by Mueller.
Read portions of the heartrending letter here:
"With no authority to make decisions on their behalf, I feel my hands are tied in providing them the proper help, support, and care that I feel as a parent that they need," she wrote.
Meanwhile, DCFS can go to court "at anytime and ask the judge to strip Scott Mueller of temporary guardianship, and placed in foster care. It's a very, very real possibility. The agency is looking at all options for the boys placement, and Denise could save them from living with strangers," RadarOnline.com's insider added.