Charlie Sheen WON'T Be Spending Christmas WIth Twins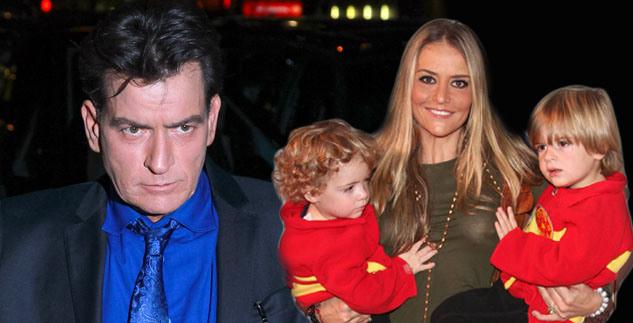 Despite media reports that surfaced over the weekend that Charlie Sheen would be spending Christmas with twin sons, Bob & Max, RadarOnline.com has learned the mercurial actor WON'T be spending the holiday with the boys and it had never been approved by their temporary guardian, Scott Mueller, RadarOnline.com is exclusively reporting.
"Scott had never agreed to let Charlie spend Christmas Eve or Christmas day with his son's with ex-wife, Brooke Mueller. Brooke would never have agreed to it either. Charlie was telling people he was going to see the boys so that he wouldn't look bad for planning to take his porn star girlfriend to Europe," a source close to Sheen told RadarOnline.com.
Article continues below advertisement
The Anger Management star also won't be spending the holiday with daughter's, Sam & Lola with ex-wife, Denise Richards.
On Monday afternoon, after being attacked for weeks on social media by her ex, Denise Richards had enough and fired back via Twitter and said, "U done ranting? keep it class dude. Our kids don't need to be privy to this, U are welcome to spend xmas w/us. Hope you still come. u were & are welcome 2 see them. I never asked for your plane. we love you. Please 4 our kids stop this...."
Our source goes on to say, "Charlie has no one to blame for not being able to spend Christmas with his kids but himself. He is clearly in yet another downward spiral, and needs help. Lashing out at Denise, the courts, Brooke, child protective services doesn't change the basic facts....he needs to take responsibility for his actions and grow up."
As RadarOnline.com previously reported, Sheen plans on taking Brett Rossi to Europe for Christmas.
"Brett is so excited to be spending Christmas with Charlie in Europe, and is loving the lifestyle of private jets, fancy dinners and designer clothes. The trip will include five-star hotels, in over the top suites. Needless to say, this is a big departure from previous Christmas' Brett has experienced."
On Thanksgiving, Sheen ditched Denise and their daughter's to take Brett to Cabo San Lucas.
Meanwhile, Denise and her daughters are far away from "all of the drama and on a ski trip out of the state," the source added.