Exclusive
Broken Beyond Repair: Denise Richards Decides To Move Out Of Charlie Sheen's Mansion After Eviction Threat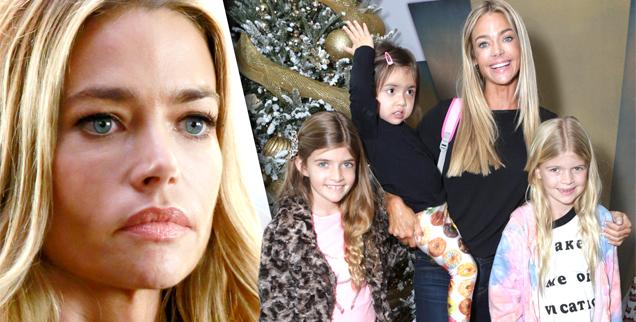 An exasperated Denise Richards has decided to move out of her posh mansion inside Beverly Hills' exclusive Mulholland Estates after her ex-husband Charlie Sheen threatened to evict the mother of his two daughters, RadarOnline.com has learned.
We broke the story: Sheen's porn star girlfriend Brett Rossi convinced the Anger Management star to evict her from the $7 million dollar house she and their daughter's, Sam and Lola have lived in for about 12 months.
Article continues below advertisement
Sheen also lives in the same gated community.
"Brett wants Denise out of the neighborhood because she is jealous of her," a source close to Rossi previously told us.
Last week, Denise was spotted "out with her real estate agent in Beverly Hills and Bel Air. She is currently looking for a house to lease or buy and has looked at several homes in gated communities but none were at Mulholland Estates," an insider said.
"Her real estate agent has indicated to other brokers that if she would like to proceed, Denise would want to move as quickly as possible."
The 9,000 square-foot mansion was bought by Sheen from Hollywood mogul Mike Medavoy in 2011. It boasts six bedrooms and nine bathrooms, has a sparkling swimming pool, lush grounds and gourmet kitchen.
As RadarOnline.com previously reported, Sheen, 48, has been on rocky terms with Richards, 42.
Article continues below advertisement
Her lukewarm invitation regarding a holiday trip with their daughters Sam and Lola led the Wall Street star to lash out at her Twitter and intimate she'll take a financial hit — vis a vis a reduction of the $55,000 a month he pays her in child support — for leaving him out of the loop.
He hash-tagged a subsequent tweet Wednesday, "#TooMuchChild$upport."
Even though Sheen has only been dating his latest porn star girlfriend for a few months, the Hollywood hell-raiser has purchased her a brand new Mercedes Benz and Rossi has moved into his house.
All of the drama involving Sheen and Richards began after he started dating Rossi — star of such flicks as She Loves My Big Breasts 2 and Bondage Tongue Bath — and she told him to cut off all contact with Richards when they began dating.
Sheen's third ex-wife, Brooke Mueller, had also been living in a Mulholland Estates home also owned by her ex-husband.
Likewise, the Palm Beach socialite is also going to be looking for a new digs because Sheen has advised that he wants to sell that house.
Article continues below advertisement
"Brett doesn't want him to spend time with the girls if Denise is present.
"The problem is, their court ordered custody agreement dictates that Denise always be present when Charlie is with the girls. He has only spent about ten minutes with them in the last month."