Exclusive
Revealed: The REAL Reason Why Brooke Mueller Is Allowing Nemesis Charlie Sheen To Visit Their Troubled Twins — $$$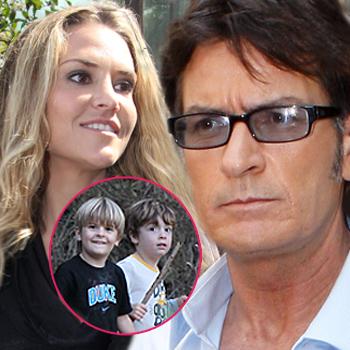 Article continues below advertisement
Said one insider: "There is only one reason why Brooke allowed the boys (Bob and Max, four) to go over to Charlie's house last week. She is desperate have her full child support payment. Brooke is a smart woman and knows if she is in Charlie's good graces, he is more likely to give her the money.
"It has been very hard for Brooke to live on $20,000-a-month because she has to pay for her sober coaches and ongoing expenses related to her recovery."
RadarOnline.com broke the story: Mueller allowed the twin sons to spend two hours with their dad and his porn star girlfriend last Tuesday night, following their bitter custody war during which Sheen, 48, labelled her an "adderall snorting husk" who was a danger to the boys.
It also coincided with the breakdown of Sheen's "Modern Family" relationship with second ex-wife Denise Richards, who he blasted as a "pig" and "media ho" in a Twitter tirade.
Article continues below advertisement
"She loves living in the exclusive community, even though Charlie lives nearby," an insider revealed.
"The condominium Brooke is living in currently is very depressing and small. Under terms of the current custody arrangement, dictated by child protective services, Brooke's brother (Scott, who is the children't temporary guardian) is the only person allowed to live in the mansion full-time."
During Mueller's custodial visits with the boys, which take place several times a week, RadarOnline.com has learned, she is allowed spend the night in her former home.
In the wake of Mueller's rehabilitation, Richards, 42, took custody of Bob and Max until she relinquished custody because of what she said was their worrying transformed from "kind and loving" young boys to "zombie-like" individuals who exhibit "extreme violent mood swings " and "violent behavior."