Exclusive
Charlie Sheen Not Seeking Sole Custody Of His Twins After Brooke Mueller Drug Bust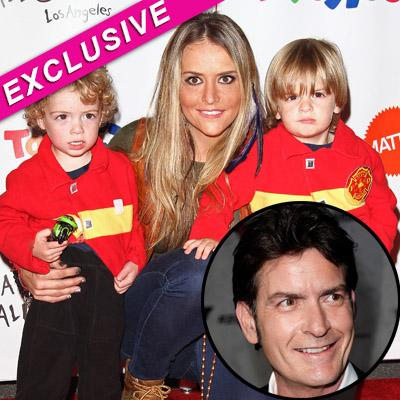 By Jen Heger - Radar Legal Editor
Charlie Sheen will not go to court to seek custody of his twin sons, Bob and Max, after his ex-wife, Brooke Mueller, relapsed and was arrested for drug possession, RadarOnline.com is exclusively reporting.
As RadarOnline.com previously reported, Sheen paid Mueller's bail after she was arrested over the weekend in Aspen, Colorado, and charged with felony drug possession and a misdemeanor charge of assault.
Article continues below advertisement
The former Two and a Half Men star doesn't think it's in his sons' best interest for him to pursue any changes in custody.
"Charlie knows that Brooke is battling a horrible disease, but that she is inherently a good person, and great mother. Charlie won't be going to court anytime soon to seek custody of the boys, or to make any changes in custodial time. Charlie is much more interested in helping Brooke, and knows that hauling her into court right now would not benefit anyone in the long run," a source close to the situation tells us.
Brooke has been told by her family and medical professionals that she needs to go to an inpatient rehab for at least nine months. Brooke has battled an addiction to crack cocaine for most of her adult life, and has been told that she must enter a long term treatment facility, immediately.
However, the mother of toddler sons, Bob and Max, is steadfastly refusing to go because she doesn't want to be away from them.
Article continues below advertisement
"Brooke has done rehab on her terms in the past. Thirty days isn't enough for an addict like Brooke. Brooke is calling the shots, and not listening to her family, or medical professionals that are telling her she needs to be at an in-patient facility for at least nine months, and not as a day patient, as she has done in the past. Anything less than nine months is a disservice to Brooke, and frankly, is a total waste," a source close to the situation tells us.
Charlie will continue to see the boys "every other weekend, as the custody agreement dictates right now. Brooke's parents, and nannies have been the primary caregivers of the boys for much of the past year, and Charlie doesn't want to change that. Bob and Max are always well cared for, and safe, and that is Charlie's first concern. Even when Brooke suffers a relapse, she has her mom, and step-father, to ensure the twins are loved, and cared for," the insider says.
Article continues below advertisement
The once bitter custody battle over Bob and Max has had a surprising outcome as the former feuding parents are now on very good terms.
"Charlie and Brooke are in a much better place than they were just several months ago. Charlie just wants Brooke to get help and get better, and will do whatever it takes to support her do that. They are divorced, but they once loved each other a great deal, and have two adorable sons together, and they co-parent Bob and Max extremely well," the pal says.