Exclusive
Brooke Mueller's Family Wants Her In Nine-Month Rehab Program, She's Refusing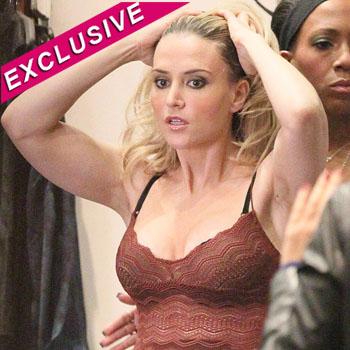 Brooke Mueller has been told by medical professionals and her family that she needs to enroll in an in-patient rehab facility for at least nine months, but Charlie Sheen's ex-wife is refusing to go because she doesn't want to be away from her twin sons, Bob and Max, RadarOnline.com is exclusively reporting.
As RadarOnline.com previously reported, Sheen paid Mueller's bail after she was arrested over the weekend in Aspen, and charged with felony drug possession, and a misdemeanor charge of assault.
Article continues below advertisement
She was released after posting an $11,000 bond, with her first court appearance scheduled for December 19.
Brooke has battled an addiction to crack cocaine for most of her adult life, and has been told that she must enter a long term treatment facility, immediately. However, the mother of toddler sons, Bob and Max, is steadfastly refusing to go.
"Brooke has done rehab on her terms in the past. Thirty days isn't enough for an addict like Brooke. Brooke is calling the shots, and not listening to her family, or medical professionals that are telling her she needs to be at an in-patient facility for at least nine months, and not as a day patient, as she has done in the past. Anything less than nine months is a disservice to Brooke, and frankly, is a total waste," a source close to the situation tells us.
Mueller is "simply powerless to her addiction right now. It's a disease and it's very much in control of her right now. Brooke is the most amazing, caring woman, and mother, when she is sober. Brooke just can't get in control of her disease, and if she doesn't finally surrender to it, and listen to what her family, and medical professionals are telling her to do, she could die," the insider says.
RELATED STORIES: