Exclusive
Welcome Back: Charlie Sheen Will Allow Ex-Wife Brooke Mueller To Move Back Into Mansion In His Neighborhood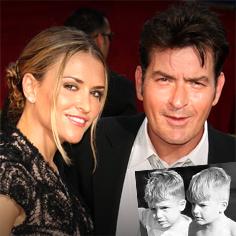 Charlie Sheen will roll out the welcome mat to his ex-wife Brooke Mueller as part of a truce in their once nuclear feud, allowing the rehabbing socialite to move back into the Mulholland Estates mansion he owns and infamously booted her out of late last year, RadarOnline.com has been told.
It's part of the pair's stunning settlement — three months ago he called his third ex-wife an "Adderall snorting husk" — which involves Sheen fully supporting Mueller's bid to regain custody of their troubled twins, Bob and Max, aged four.
Article continues below advertisement
"Charlie now wants Brooke to move back into the house after she regains custody of the boys," a source close to the situation revealed.
"It's important to Charlie that the boys be in the same neighborhood and close by. So, he is no longer threatening to sell the house. Brooke stays in the house during her custodial visits with the twins and she is looking forward to moving back in."
As RadarOnline.com previously reported, the Hollywood megastar, 48, had begun shopping the the $4.8 million inside the exclusive gated community and even, at one point, had a potential buyer. Fortuitously for Mueller, the sale never went through.
Article continues below advertisement
Sheen has since turned on Richards, who he blasted as a "pig" and "media ho" in a degrading Twitter tirade earlier this year.
At the same time, a fragile peace broke out between the Anger Management star and Mueller after the mother-of-two allowed her Sheen to visit their twin sons — in the presence of his porn star fiancee Brett Rossi and a monitor -- in January.
"Brett loves spending time with the boys and has gone swimming with them in Charlie's pool," said one source.
"It wouldn't surprise anyone if she were to become pregnant as she and Charlie have already talked about starting a family together."
Meanwhile, a court appearance had been scheduled in family court for the Sheen-Mueller case on Wednesday.
However, the hearing was continued until May 21.
"It's expected at that time, Charlie will formally sign off on reinstating the monthly child support payments to Brooke," a source noted, which had been cut in half from the original $55 thousand per month after she lost custody.