Does Chrisley Really Know Best? Millionaire Star Of New USA Reality Show Sued By Employees For 'Vulgar' & 'Outrageous' Sexual Harassment, Filed For Bankruptcy Last Year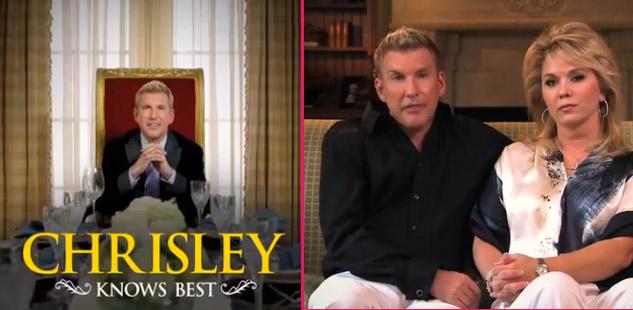 USA Network is getting into the reality game with a new show, Chrisley Knows Best, set to debut in March 2014. A trailer clip went viral online Wednesday, introducing viewers to the eccentric Atlanta millionaire Michael Todd Chrisley and his picture-perfect family. But RadarOnline.com has exclusively learned that the reality isn't so camera-ready. Just a few years ago, Chrisley was sued by three female employees for "severe and pervasive" sexual harassment.
Article continues below advertisement
In court documents filed in Atlanta on April 27, 2009, and obtained by RadarOnline.com, Chrisley Asset Management employees Sharon Meier, Monica Tucker and Amanda Marchitello accused the would-be reality star of fostering a "vulgar" work environment and firing them because they dared to complain about the sexually charged atmosphere at the office.
"Mr. Chrisley subjected Plaintiffs to sexual harassment that was so severe and pervasive, it created a hostile work environment," the documents claim. "During staff meetings, Mr. Chrisley routinely asked Chrisley Asset Management employees if they 'got laid over the weekend.' … At virtually every staff meeting, Mr. Chrisley would make loud, sexually suggestive comments, as well as on a daily basis in the office."
For example, "When a new employee at Chrisley Asset Management was being introduced to other employees, Mr. Chrisley stated that she 'prostitutes on the weekends.' Mr. Chrisley also asked the new employee in front of other Chrisley Asset Management employees, 'Are your tits real?' Unfortunately the new employee is a breast cancer survivor and had undergone a double mastectomy. Plaintiffs were appalled and disgusted by Mr. Chrisley's offensive and demeaning sexual comments."
Article continues below advertisement
Chrisley regularly accused one employee, Meier, of sleeping with clients to close sales, the documents allege, and said she didn't receive flowers at the office because her sexual skills weren't up to par.
Another employee, Tucker, claimed in the documents that on her first day of work, Chrisley "demanded to know the size of her boyfriend's penis." And later on her first day, the documents claim, "…Mr. Chrisley began to discuss in graphic detail his sex life, including oral sex with his wife, and asked Ms. Tucker, who is Indian, about the size of Indian women's vaginas. … Shortly after her first day, Mr. Chrisley asked Ms. Tucker in the presence of his son, if she would take his son's virginity. She told him no and left to go home.
MORE ON:
Celebrity Justice
In general, the documents claim, Chrisley "frequently referred to other women (including female employees) as escorts, strippers, swanky hos, sluts and prostitutes. Mr. Chrisley frequently threatened that any employee who did not like what he said or did, including his severe and pervasive sexual comments, would 'get a pink slip' and be fired."
Indeed, Meier and Tucker even claimed in the documents that they were asked to leave the company after airing their concerns about Mr. Chrisley's behavior, which Machitello claimed was "intentional and/or reckless, extreme, outrageous, beyond all possible bounds of decency and should be regarded as utterly intolerable in a civilized community."
Article continues below advertisement
As a result, all three women claimed in the documents to suffer from anxiety, stress, insomnia, depression, and other disorders. According to court records, the case was later dismissed when both parties reached a settlement.
Now, according to Chrisley's reality TV clip, he has decided to pursue a career in fashion. He shows off his designer clothes and brags about being neighbors with Usher and Sharon Stone. But RadarOnline.com has learned that his finances haven't always been so stellar.
Chrisley filed for bankruptcy in August of last year, and it was just discharged earlier this year, according to records obtained by RadarOnline.com.
In 2011, records show, he was slapped with liens for owing more than $900,000 in back taxes. The year before, he was hit with liens for owing more than $15,000. In 2005, he was served a lien for owing $1,708, and in 2000, he was served with yet another lien for owing $4,140.
Sounds like the perfect recipe for a reality TV star? Or do you think someone with his history should stay off the air? Watch the clip and let us know what you think in the comments!
youtube=https://www.youtube.com/watch?v=sHc7DnzIs6I&w=560&h=315