Kathy Griffin Refuses To Apologize For Simulating Lewd Act On Anderson Cooper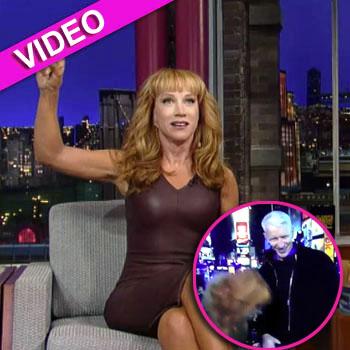 A defiant Kathy Griffin, speaking with David Letterman Wednesday night, refused to make amends for her often vulgar behavior on CNN's New Year's Eve special alongside Anderson Cooper, when she repeatedly simulated oral sex on the globe-trotting journalist.
"If you think this is the part where I'm going to apologize for trying to go down on Anderson Cooper, you are sorely mistaken," Griffin told Letterman. "I tried, ladies and gays, I tried for you."
Article continues below advertisement
Letterman asked Griffin, "Let's say a man on television did that to you: What would your reaction be?"
The red-headed comic, 52, replied, "If it was Anderson Cooper -- myself and every other gay guy and woman -- I'd unzip so fast."
The incident in question came after midnight, when Kathy sinked down and repeatedly tugged at Cooper's trousers, telling the openly-gay broadcaster, "I'm going down … you know you want to."
As for Cooper, he continually giggled his way through Griffin's antics, and he often pretended that he didn't understand her suggestive comments.
The episode rankled Parents Television Council President Tim Winter, who said that "the onus is now on CNN" to react punitively to Griffin's lewd antics.
"Either the network has a policy that allows its on-air talent to fondle a co-anchor's genitals, or it has a policy that forbids such conduct."
Article continues below advertisement
Watch the video on RadarOnline.com
This was the sixth time Griffith has co-hosted CNN's New Year's Eve special with Cooper, as the two are good pals.
Griffith's past appearances have also been criticized for her often over-the-top and lewd antics.
youtube