Exclusive
40 Year Age Difference! No Problem For These Trophy Wives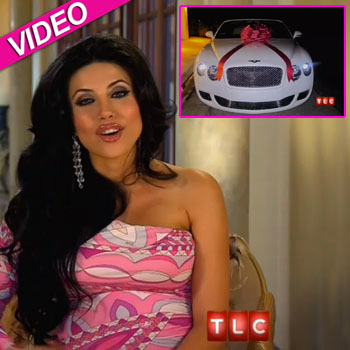 They ain't nothing but a bunch of gold diggers, or are they?
Four women proudly hold the title of Trophy Wives in an upcoming special where they pull back the velvet curtains and share a glimpse into their luxurious lives, Bentleys and all.
Secrets of a Trophy Wife introduces Simona Fusco, a stunning blonde model who was 20 when she married her husband, Leyla Lani-Khoshbin, a former Deal or No Deal model, Jennifer Stano-David who has gone from her mother's home to a multi-million dollar Beverly Hills estate, and Paula Steurer, whose husband owns a high end car dealership.
Article continues below advertisement
In the sneak peek of the TLC special, all of the women show off their jewelry, homes, cars and the fabulous lives they have as Trophy Wives.
"I'm married to a billionaire; I don't have to work," is a frank statement one women makes about their lucky lives.
"I'm wife number four," says another of the women.
"I love my Chanel handbag."
The women have accepted their reputations, and even admit that they know people might look down on their relationships.
"I'm sure people see us and go, she's probably just with him for money."
However, they don't think the choices they have made are wrong.
"I've always thought of the term Trophy Wife as something being positive!" and they are quite happy with what life has handed them.
"I want to be a trophy wife; there is no question about that!"
Check out Secrets of a Trophy Wife Saturday, December 8 on TLC at 10/9c.
RELATED STORIES: