Makeup Free At 51! Kathy Griffin Is A Bare-Faced Beauty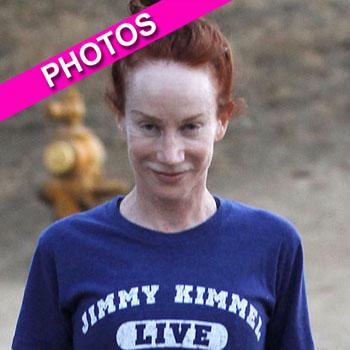 Most Hollywood stars wouldn't be caught dead without a face full of makeup, but Kathy Griffin isn't one of them!
The 51-year-old comedienne went for a hike with her much younger boyfriend, Randy Bick, on Wednesday, proudly flaunting her flawless makeup-free face and RadarOnline.com has the photos.
Dressed to sweat in a Jimmy Kimmel Live t-shirt, athletic shorts and sneakers, the certifiable cougar held tightly onto her beau's hand as the two enjoyed an al fresco workout at the popular celebrity hiking spot Runyon Canyon.
MORE ON:
Sexiest Bodies Hollywood
Article continues below advertisement
The comedienne has been dating Bick, who is 17 years her junior, since late last year. He is the marketing manager at the Los Angeles Times.
To see more photos of stars without makeup, click here.
RELATED STORIES:
Tyra Banks, Is That You? Top Model Shows Off Shocking, Makeup-Free Face
Gorgeous Gwyneth! Paltrow Shows Off Makeup-Free Face
Call The Makeup Police! Kelly Osbourne Bares Her Naked Face
Mary-Kate, Is That You? Olsen Shows Off Shocking, Makeup-Free Face