Exclusive
When Justin's Away, His Drug Pal Will Play! Friend Nabbed In 'Molly' Arrest Housesitting L.A. Party Pad During Bieber's Miami Trip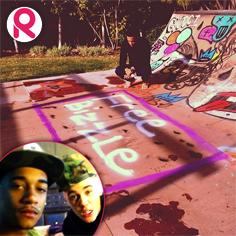 Article continues below advertisement
"We don't take this as a joke," he wrote. "It's not a game. Free bizzle. Free Kalfanzo."
Lil Za had been arrested on January 14 when a police raid at Bieber's Calabasas home uncovered Molly (ecstasy) and Xanax in plain view. Cops had been looking for evidence linking Bieber to an egging attack on his neighbor's mansion.
Though his advisers reportedly encouraged him to cut Za and other bad news pals out of his life once and for all, Bieber refused, even going so far as to entrust him with the home during his trip to South Beach.