Exclusive
When Justin's Away, His Drug Pal Will Play! Friend Nabbed In 'Molly' Arrest Housesitting L.A. Party Pad During Bieber's Miami Trip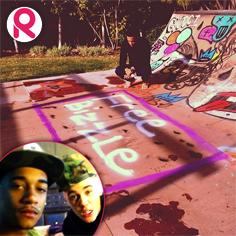 These days, jail time is practically becoming a rite of passage for Justin Bieber's posse. RadarOnline.com has learned that while Bieber and pal Khalil Sharieff were being arrested in Miami for drag-racing and DUI, Bieber's pal Lil Za, who was arrested last week for drug possession, was back in L.A. housesitting Bieber's notorious LA. mansion!
Za posted messages of support for his bros on Instagram, showing fresh "Free Bizzle" (referring to Bieber) and "Free Kalfanzo" (referring to Sarief) graffiti that he'd painted on Bieber's backyard skate ramp.
Article continues below advertisement
"We don't take this as a joke," he wrote. "It's not a game. Free bizzle. Free Kalfanzo."
Lil Za had been arrested on January 14 when a police raid at Bieber's Calabasas home uncovered Molly (ecstasy) and Xanax in plain view. Cops had been looking for evidence linking Bieber to an egging attack on his neighbor's mansion.
Though his advisers reportedly encouraged him to cut Za and other bad news pals out of his life once and for all, Bieber refused, even going so far as to entrust him with the home during his trip to South Beach.
Now, Bieber himself is being urged to check into rehab, as Radar has reported.
Story developing.