Exclusive
Tom Cruise Scientology 'Labor' Scandal: Ex-Church Members Allege That They Were Ordered To Work For The Star In New Court Files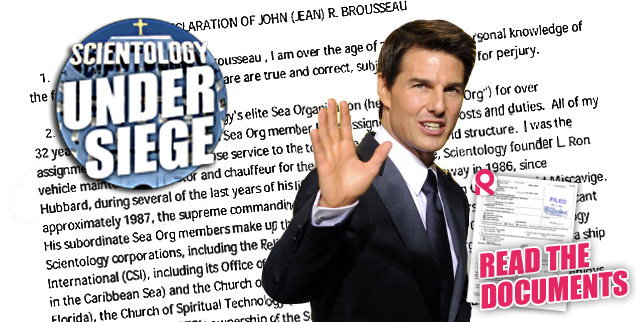 The besieged Church of Scientology is facing yet another explosive assault as former members of the organization make new allegations about the church's most famous enthusiast, Tom Cruise.
According to affidavits recently filed by fifteen ex-Scientologists, church members allege that Cruise has profited for years from a system under which parishioners have been ordered to complete projects for the superstar. From home renovations to auto repair and personal assistant tasks, these Scientologists claim in court papers that they were told to do any number of things to keep the Church's most prominent member happy.
Article continues below advertisement
John Brousseau, a former Sea Org member, has spoken out before about how he allegedly completed hundreds of hours of free work for Cruise. Now, he's opening up even more about his disturbing claims.
"In or around 2004, I was directed by Miscavige … on several occasions to do specific projects relating to Tom Cruise," the affidavit, first published by former Village Voice columnist Tony Ortega alleges.
Article continues below advertisement
Among those tasks were "a complete renovation of his home in Beverly Hills," he claims, as well as "a similar but smaller-scale overhaul" at his home in Telluride, Colorado.
The next year, Brousseau alleges, "I was enlisted … to oversee the construction of a large custom motorhome for Mr. Cruise over a 5 month period." And the year after that, he says "I was also enlisted … at the direction of Miscavige to assist in the customization and construction of a special limousine for Tom Cruise."
On each of those projects, Brousseau has claimed, he was paid approximately $1 per hour. Marty Rathbun, another former Scientologist, reportedly corroborated his claims previously.
The Church of Scientology and Cruise have both denied Brousseau's statements, saying he only "consulted" on the projects.
But Brousseau is not alone in his allegations: Another former high-ranking Scientologist, Amy Scobee, claims in her affidavit to have been ordered to complete other, entirely different tasks for Cruise.
Article continues below advertisement
"Miscavige's assistant directed me on a project to locate Scientologists for Tom Cruise's household to cover the positions of nanny, cook, and maid," she alleges in the court documents. "I was required to find Scientologists who could be counted upon to service Tom Cruise while remaining more loyal to the church."
Reportedly, Scobee has previously claimed that those same employees were then directed to report their observations of Cruise and his family back to Miscavige and the church.
And Cruise wasn't the only one who allegedly benefitted from Scientology's work force. Scobee alleges that Miscavige also ordered her to "obtain a Lincoln town car for the president of another corporation, Celebrity Center International. He ordered that it be a match with another town car he purchased for the President's Office of yet another Scientology corporation … in Florida."
Those who did not follow Miscavige's orders were often subjected to brutal punishment in Scientology "gulags," the court documents allege, such as being held in bamboo cages, being forced to hand-scrub sewage treatment systems, or being splashed with icy cold water, say the court papers.