Former Scientologist Testifies She Was Locked Up, Beaten, Tortured By Church Members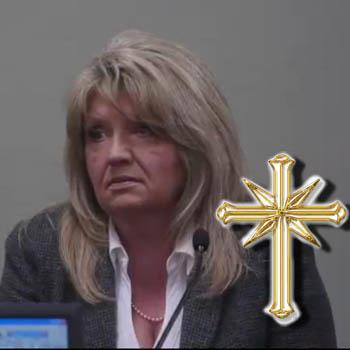 In shocking court testimony a former Scientologist said she was locked up, beaten and tortured by the religion's senior members in a desert compound in California.
Debbie Cook, 50, was once a senior executive in Scientology who left the church in 2007, and she claimed on the stand that she was held against her will for 45 days in an ant-infested trailer.
The church has an extensive high profile celebrity membership, from Tom Cruise to John Travolta to Kirstie Alley.
Article continues below advertisement
Cook claimed in a San Antonio, TX court that in the summer of 2007 she was imprisoned in a trailer called The Hole and she described the horrific conditions.
"It had bars on the windows and the one entrance was guarded by security 24 hours a day," she testified. "The place was infested by ants, so ants would crawl on you, and there was a two-week period when the electricity had been shut off, as ordered by Mr. Miscavige. This was of course in summer in the desert so the temperature was about 106F."
She also claimed that she was forced to stand in a trash can for two hours while water was poured over her head while people yelled at her, and said these were "confession" sessions.
Cook also claimed that a senior executive was forced to lick a dirty floor for 30 minutes after they upset the Scientology leadership.
While she was active in Scientology she was a member of the church's high level Sea Organization and became a captain at the Flag Service Organization spiritual headquarters in Clearwater, Florida.
Article continues below advertisement
Scientology has been fighting her testimony, saying she breached her confidentiality agreement that she signed when she left the organization in 2007. She was paid $50,000 when she left. Cook claims that she signed the agreement under duress.
"I would have signed that I stabbed babies over and over again and loved it," she said about her state of mind at the time. "I would have done anything."
Cook is also claiming that David Miscavige, the leader of Scientology, is "hoarding" more than $1 billion raised through fundraising and that he frivolously spent millions on building "unnecessary, lavish facilities that lie empty."