Exclusive
Scientology Crisis: Ex-High-Ranking Church Officials Urge Top Stars To Quit In Wake Of Leah Remini's Exit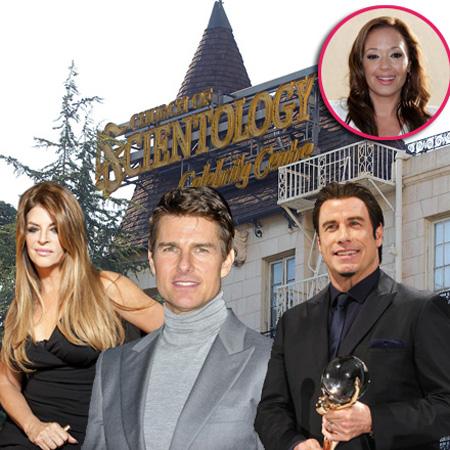 Article continues below advertisement
"Strip off the rose-colored glasses. Look beyond the surface of what you endorse," said Amy Scobee, a former high-ranking Church executive who fulfilled various management positions - including at the Celebrity Centre sector - during 27 years in the Church.
"Evil may be hard to confront, but the information is readily available if you care to know the truth."
Sinar Parmen, the former personal chef to the founder of the Church of Scientology, L. Ron Hubbard, said the church's star poster children should investigate why others, like Paul Haggis and Jason Beghe, chose to sever ties.
When Academy award-winning director Haggis left the church in 2009, he cited how he was "ashamed of my own stupidity, of how I'd been -- could have been so purposely blind for so many years."
"The celebrities definitely need to really observe how the church has changed and note the now obvious truths of the characteristics of what the Church of Scientology has transformed itself into," said Parmen, who worked at Cruise's 1990 wedding to ex-wife to Nicole Kidman. He remained inside Scientology for 20 more years before becoming disillusioned enough to leave permanently.
Article continues below advertisement
Added Mike Rinder, the former chief spokesman of the Church of Scientology who quit in 2007: "Wake up and smell the coffee."
"It should tell them something that the church in response to the avalanche of media does not deny disconnection of families or that Miscavige's wife has been 'disappeared,'" he added.
The discontent from former loyalists is unlikely to come as a surprise to the embattled church: Scobee, Rinder and Parmen have all been outspoken critics since their decision to leave. Indeed, the church has labelled Rinder, one of its highest profile defectors, as an untrustworthy source and a bitter former employee who was removed from his senior post for "gross malfeasance."
"There has been a mass exodus of high ranking members in the past few years who have been disillusioned by the the way David Miscavige is running Scientology," Mark Bunker, a Scientology filmmaker, told RadarOnline.com.
"For years, former members had kept silent out of fear of retribution. Lately, many have been willing to speak up and that courageousness is important because it gives others the strength to speak out and either seek changes or walk away from the abuses."
Article continues below advertisement
Bunker said he hopes the ex-King of Queens star actually speaks out about her reason for leaving.
"My understanding is that Leah's whole family stands with her which is wonderful news but Leah still faces losing many of her closest friends," he added.
"I hope she realizes that if she speaks out she will be helping those very friends along with all the other members of an organization which has meant so much to her over the years. She may not like the leadership but I know she likes the people she left behind.
"A lot of celebrities credit Scientology for their success but the truth is Tom Cruise is Tom Cruise because he is Tom Cruise, not because of Scientology. There is an indefinable star power built into the man.
"He may have picked up some pointers along the way in Scientology that helped him but it boils down to the star charisma that Jimmy Stewart, Henry Fonda, Tom Hanks and so many others have had without a single lick of advice from L. Ron Hubbard.
Article continues below advertisement
"If Scientology was the reason Cruise succeeded then every Scientologist would be as successful as Tom Cruise but the Scientology Celebrity Center is packed with people whose careers have stalled, peaked or never taken off. Like always, Scientology takes the credit for the success of Cruise but blames the failures on the individual Scientologist. And Scientology won't harm your career if you leave. Many more doors will open up.
"My advice to Leah is to speak from the heart and tell the truth. Don't fear the church... You are no shrinking violet. You can stand up to them. They came after Paul Haggis and he's still standing... They came after Jason Beghe and his career is stronger than ever."
The Church has so far been silent of Remini's decision to leave, saying it "respects the privacy of parishioners and has no further comment."
Article continues below advertisement
But the organization added, "on a broader level, please note the following, which is not to be construed as a comment about Ms. Remini. We have read numerous allegations about the Church in the coverage of this story that are categorically false, alleging so-called policies and practices.
"The allegations of 'interrogations' and 'thought modification' are absurd and pure nonsense, as are all the statements made about the Church's leader, Mr. David Miscavige.
"Under the 25-year leadership of Mr. Miscavige, following in the footsteps of our Founder, L. Ron Hubbard, the Church is enjoying tremendous expansion as shown in our new churches opening in six continents and the many new parishioners joining their congregations."