More Trouble For Taylor: Swift's Rhode Island Neighbors Furious As She Rips Up Public Beach For Private Sea Wall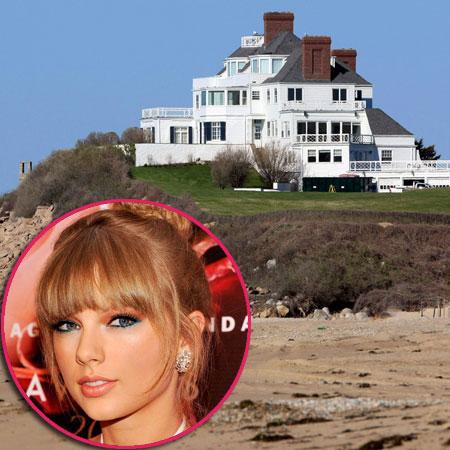 Even in the dead of winter, Taylor Swift can't help but stir up controversy with locals near her summer home in Rhode Island. After overzealous security guards at the cliffside mansion made a bad impression months ago, her latest insult is reportedly the construction of a sea wall below her property. "She's tearing up the beach and everyone is pissed off about it," one local tells RadarOnline.com exclusively. And worst of all, according to reports, she doesn't have a permit.
Article continues below advertisement
On an afternoon last week, "one giant machine, part crane, was lifting big appliance-size boulders up out of the ocean with its mechanical claw and moving them," columnist David Collins of The Day newspaper in Connecticut first reported. "Imagine my surprise when I soon discovered that Swift has not obtained one single permit from the town for the cliff work, which could well be among the largest construction projects in the area right now."
Temporary fencing, a generator, light towers for night work, a construction trailer and a Porta-Potty currently mar the beach walk, Collins claims, all thanks to Swift's grand plans.
"Not only is the Swift contractor plucking and moving around big ocean boulders," Collins wrote, "but they have added a whole new line of rock sea wall on what had previously been a public beach."
One local tells RadarOnline.com, "This is just the latest of all the things she's done to try to take over our beach since she moved in. She needs to realize that just because she bought a house overlooking the beach, she doesn't own it."
MORE ON:
Celebrity Justice
Article continues below advertisement
Worst of all, the source says, "Volunteers work all summer to keep this part of the beach clean and accessible to everyone, and the work she is doing is going to have an effect on the tides, the amount of accessible shoreline, everything!"
As RadarOnline.com has reported, Swift's security guards had been previously criticized for overzealously patrolling the public beach walk and sea wall below her property. She also erected several noticeable No Trespassing signs on her property that said "I knew you were trouble when you walked in."
These days, locals are saying the same about her.
On Twitter, one local, Lexis Baker wrote Monday, "Thanks Taylor Swift for ruining the public beach!" Another user, @Sessahh chimed in, "What a d**k."
Do you think what Swift is doing is fair? Or is she another celebrity over-stepping their bounds? Let us know in the comments!