Exclusive
'I Just Wish She'd Leave Me Alone': Taylor Swift T-Shirt Maker 'Intimidated' By Swift's Entourage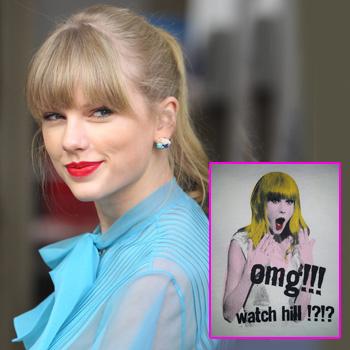 It's been almost two months since Taylor Swift purchased a beachside mansion in Watch Hill, Rhode Island.
But after getting off on a rocky foot with her neighbors after her security team bothered beachgoers, she hasn't done much since to endear herself to locals. One businessman who made a fun tee shirt welcoming Taylor to town was subsequently "intimidated" by Taylor's team and pressured into discontinuing the shirt.
Article continues below advertisement
"We refer to it as the OMG Watch Hill tee shirt," graphic designer Kevin Adams tells RadarOnline.com of the garment. "I'm trying to avoid saying 'that name.'"
Adams, the owner of J. Mack Studios in Westerley, Rhode Island, designed a Taylor-themed tee about three weeks ago.
"It's pretty big news with Taylor coming here, so we wanted to make a fun tee shirt," he explains. "We purposely made one that didn't say her name on it. Then we put it on our Facebook page, and people liked it, so we started selling it."
"Very promptly," Adams says, "we got a call from this guy from Nashville who told me to stop making them. He called me last Tuesday or Wednesday."
Presenting himself as a representative of Taylor hoping to protect her brand, "He started throwing his weight around and trying to intimidate me," Adams says. "I'm sure this guy was just doing his job, but I don't believe I'm doing anything wrong with this shirt."
Just last week, Abercrombie & Fitch pulled another Taylor-themed tee after outcry from her fans, as RadarOnline.com reported. But Adams says, "That tee was derogatory. Mine is completely harmless."
"And you know what, I'll bet you that Taylor could care less," Adams says. "It's just her people doing their jobs."
In fact, Adams, who hasn't decided if he's going to bend to the pressure and take his shirt off the presses, says he's fine with having Taylor as a neighbor -- as long as she chills out with the diva behavior. "I think it's totally cool that she came to town," he says. "Some of the people in Watch Hill may not be keen on it, but I'm happy to have her here. I just wish she'd leave me alone."