Don't Be Mean To T-Swizzle! Abercrombie & Fitch Pulls T-Shirts Mocking Taylor Swift's Love Life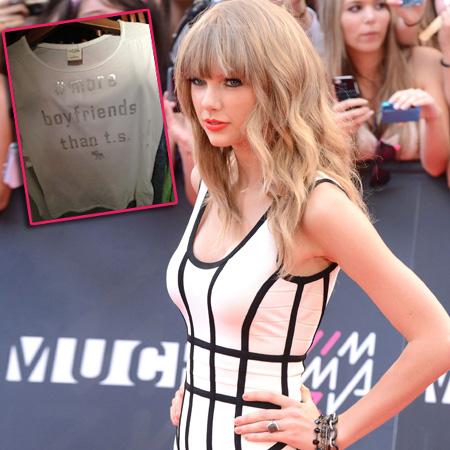 Don't mock Taylor Swift's love life and expect her fans to sit back and laugh!
After Abercrombie & Fitch released a t-shirt poking fun at the singer's highly publicized romantic antics, her fans revolted against the controversial retailer, forcing them to pull the shirts off the shelves – and RadarOnline.com has the details.
"# more boyfriends than t.s.," the novelty t-shirt, which also featured the company's moose logo, read.
Article continues below advertisement
The star's fans created a petition on Change.org demanding that A&F remove the t-shirt, "Because it's hurtful to Taylor Swift and Swifties everywhere!" – and one of her fans even made a YouTube video urging fans to flood the company's PR department with phone calls to complain.
Apparently, Taylor's fan's tactics worked, because phone calls placed to the number resulted in a recoded message: "Thank you for calling Abercrombie & Fitch public relations. If you are calling regarding the Taylor Swift t-shirt, please note this is no longer available."