Exclusive
Taylor in 'Trouble'? Pics of Snarky Signs At Swift's Rhode Island Estate Circulate Online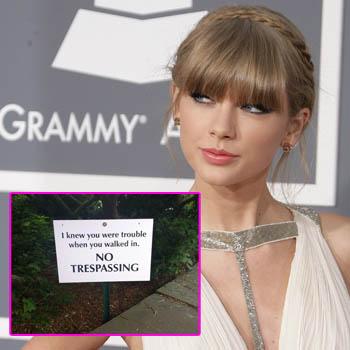 Is Taylor Swift taking revenge in writing yet again? Locals near her Rhode Island mansion haven't exactly welcomed her with open arms, and now there are new claims that she's striking back with snarky trespassing signs on the grounds of her estate.
"I knew you were trouble when you walked in," the square white sign supposedly reads, quoting the lyrics of her song, "Trouble." "NO TRESPASSING."
While the whole thing certainly could be the work of a talented, overzealous Photoshopper, RadarOnline.com has found several shots of the sign and others from different angles and locations, posted on Twitter by individuals claiming to have seen them at Taylor's pad.
Article continues below advertisement
If true, the signs would be just the latest of Taylor's questionable attempts at maintaining some privacy on the grounds of her Watch Hill manse. Several locals have complained about Taylor's aggressive security guards, as RadarOnline.com has reported, and she also sicced her reps on a local screen printer who tried to make a tee advertising her presence in town.
Despite her lack of local popularity, Taylor has certainly been frequenting the oceanside estate since buying it in May, and she arrived Wednesday afternoon for Fourth of July celebrations, RadarOnline.com can reveal.