Exclusive
Taylor Swift Is Too Cool For School! Surrounded By Bodyguards At AMAs, Refused To Mingle With Fans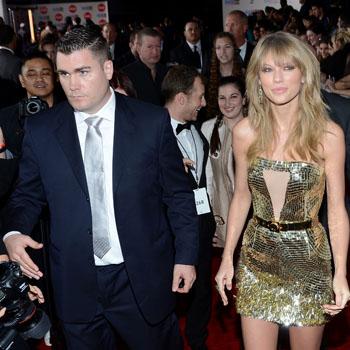 Taylor Swift is country's sweetheart, but according to an eyewitness at the American Music Awards on Sunday night the singer was anything but sweet with the audience and her fans, RadarOnline.com is exclusively reporting.
While Swift, 23, sat in the audience at the Nokia Theatre L.A. Live in Los Angeles, she was all smiles until commercial breaks.
"Quite frankly, Taylor acted like a b*tch," the insider told RadarOnline.com.
Article continues below advertisement
"She had two huge bodyguards who would jump up and block anyone from talking to her or taking photos during commercial breaks."
And even though Swift won big during the awards show, taking home three trophies, so did Justin Timberlake — and the eyewitness said the former 'N Sync bander was the complete opposite of Swift when it came to social manners.
"Justin Timberlake and Katy Perry didn't have any security and gladly mingled with the audience and fans," the source said.
In contrast, when Swift captured the Best Female Country artist award, Styles and his bandmates stood up and applauded, showing a classy side.