Taylor Swift Avoids Eye Contact With Ex-Boyfriend Harry Styles At AMAs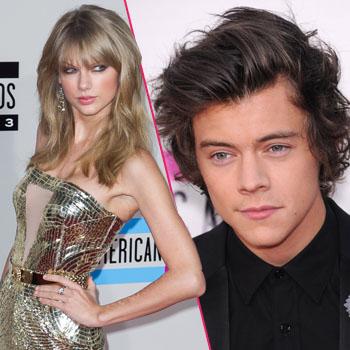 Taylor Swift wasn't kidding when she said they're never, ever getting back together.
The lauded songbird twice brushed past her ex-boyfriend Harry Styles and his One Direction bandmates at Sunday's American Music Awards, looking straight without acknowledging their presence, insiders told US Weekly.
In contrast, when Swift captured the Best Female Country artist award, Styles and his bandmates stood up and applauded, showing a classy side.
Article continues below advertisement
As we previously reported, the duo famously broke up this past January after a two-month fling that the music world watched closely.
After the split, Swift took a shot at Styles at the Grammys during her performance of "We Are Never Getting Back Together," speaking in a mock British accent, saying: "So he calls me up and he's like 'Ah still louve you' … and I'm like 'I'm sorry, I'm busy opening up the Grammys…and we are never getting back together!'"
In related Harry news, Kendall Jenner, who had dinner with the English musician Monday, told E! she was not dating him, clarifying there's "no story" there except two pals grabbing a bite.
"We're friends -- he's cool."