Paula Deen Abuse Scandal: TV Chef's Stepson Allegedly 'Viciously Attacked' Friend, Leaving Him With Broken Nose & Eye Socket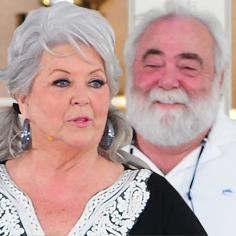 Paula Deen's 2013 just continues to get worse.
This time, her 28-year-old stepson Anthony Groover is causing her agita, after racking up multiple a felony battery charges after an alleged attack on one-time pal James Price in Savannah, Ga., leaving the man with numerous injuries.
"Paula was being bombarded with bad press, and she was furious with Anthony for putting her reputation and business empire at further risk," a source told this week's edition of the NATIONAL ENQUIRER. "Paula has done everything she can to make sure Anthony's case remains buried, but it's also caused an avalanche of problems in her marriage because she's been taking out her anger on" her husband Michael, who is Anthony's father.
Article continues below advertisement
Price, speaking with the ENQUIRER, described in detail his Sept. 23, 2012 run-in with Groover, son of Deen's husband Michael.
Price said he and Groover were throwing back drinks at Live Wire Music Hall, a local bar. He said they were looking to hail a cab when an SUV pulled up and Groover boarded the front while he tried to get in the back. That's when Groover's violent side came forth, according to Price.
"Anthony flew into a rage, jumped out of the SUV with another guy and started cussing me for no reason," Price said. "I told him, 'F*** you, man!' and started to walk away. As my back was turned, Anthony shoved me into a brick building. My head hit the wall so hard that it knocked me out cold."
Police said witnesses observed "a white male from the SUV tackled Price into the wall … and punched him in the face multiple times."
Article continues below advertisement
Price, according to witness statements, was "lying on the ground in blood with bruising on his face, lacerations on the front and back of his head, and a large amount of blood on his hands and head."
Price said despite $100,000 of reconstructive surgery, he continues to have issues after suffering a broken nose and damaged eye socket in the beating. He said that after a hearing on the matter in April, Anthony immediately began harassing him again after learning "no action would be taken" in the melee. After Groover was not indicted following a grand jury ruling in May, Price complained that Deen's stepson has received preferential treatment with the locals.
"As it stands now, it looks like Anthony is going to get away without any punishment at all," Price told The ENQUIRER. "Paula Deen and her family are treated like royalty in the Savannah area, and it's pretty obvious to me that this is just another case of Savannah's good ol' boy network protecting her."
Despite the escape, the damage might have been done -- on Deen's marriage.
"Anthony's recent criminal case is just another problem in a series of many that are piling up in Paula and Michael's marriage," the source said. "It's only a matter of time before it collapses!"